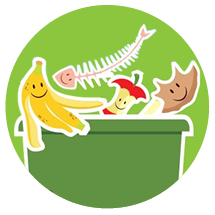 Every Week
Food waste should only be presented in the tied food waste liners inside the large food waste container, both of which are provided by the Council.
All unpackaged food waste, whether cooked or uncooked, can go into your food waste caddy. This includes:-
All food waste (cooked or uncooked) or freezer contents
Any left-over food from plates
Any outdated food
Bread, pastries and confectionaries
Dairy products
Fish (cooked and uncooked), bones and carcasses
Meat (cooked and uncooked), bones and carcasses
Tea bags and coffee grounds
Fruit and vegetables (whole and peelings)
Egg shells
Small amounts of cooking oil (Please make sure it has cooled to room temperature before placing in the food bin)
If you need to replace a missing or broken container or need an additional container as you have a large amount of food waste (eg large family) please contact us.
The Council now provides plastic food waste liners FREE OF CHARGE. Please use the liners provided by the Council to line your kitchen caddy. Please do not use any other type of plastic bags as the liners provided have been approved for use by the food waste treatment facility. The plastic liners are removed from the food waste treatment facility and sent to an Energy from Waste plant where the liners are treated in order to produce heat and electricity.
Tie your white tag to your food waste container on collection day to request more food waste liners. Alternatively the plastic food waste liners are available from Community Recycling Hubs.
If you require plastic liners for the large food bin, these are £1.70 for a roll of 26 liners and are available from Customer Service Centres – Local Offices or Tourist Information Centres. Please note these liners are not essential.