We supply containers, bags and liners to every household in Ceredigion to make recycling easier. Please make sure you put the right waste out for collection in the right way, on the right day.
Right Waste
Check which items go in which container by using the Household Waste Collection Service leaflet (see picture 1). You can also find out how to dispose of other items on our A-Z of Waste;
1.
Right Way
Food waste:
Line the food waste caddy (see picture 2)   
2. 
with the liners provided (see picture 3),
3.
and once full, tie the liner and put in your kerbside food waste bin (see picture 4).
4.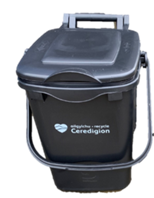 Put the food waste bin out for collection on the right day. 
Mixed recycling:
Put the clean clear bag materials in the clear recycling bags (see picture 5). When full, please tie the bag and put it out for collection on the right day.
5.

Glass bottles and jars:
Use the box for glass bottles and jars (see picture 6). A smaller box is available on request.
6.
Right day
Check your recycling and waste collection calendar (see picture 7). You can also check when your next collection is by using our postcode search.
7.
Need a replacement?
For food waste liners and clear recycling bags, use the yellow stickers to request more clear bags; just place on top of your full bag and the collection crew will leave a new roll at your collection point. Or, visit your nearest Community Recycling Hub. For replacement bins and caddies please contact us.
Please note that we do not provide containers for non-recyclable waste. Residents are required to provide a suitable secure container such as a strong black bag or a wheelie bin.