Recycling Talks in Schools
Officers of the Ceredigion Recycling Team will visit schools on request to give talks on recycling and waste minimisation. For more details, please contact the Recycling Team.
The Recycling Team, along with their pal Aled Ailgylchu visit roadshows and other local events to promote recycling.
Eco-schools
The Eco-Schools programme is an international initiative that encourages pupils to engage with environmental and sustainable development issues. It provides a highly structured system for the environmental management of schools.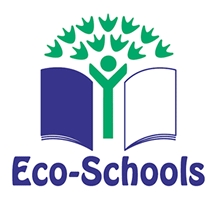 The programme is a learning resource and topic areas include: Litter, Waste Minimisation, Transport, Healthy Living, Energy, Water, School Grounds and Global Citizenship.
Pupils take key roles in decision making and participation in order to reduce the environmental impact of their school. In this way, Eco-Schools extend learning beyond the classroom and develops responsible citizenship attitudes both at home and in the wider community.
The majority of schools in Ceredigion are registered Eco-Schools, and to support this initiative Ceredigion County Council provides free recycling and food waste collections to each school that is part of the scheme. To find out when your school's collection day is, please use our Postcode Search.