This is your opportunity to help residents in Ceredigion keep warm, safe and well this winter.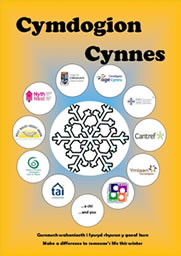 In an attempt to ensure that residents in our communities do not have to endure living in cold conditions, organisations in Ceredigion have come together to develop Cymdogion Cynnes. The pack contains important information which we think you should be aware of and as a result be in a stronger position to help someone this winter.
Whether caring and helping the community is part of your work, if you're a volunteer or just want to help your neighbour, friend or family member then the Cymdogion Cynnes information pack will be of value to you.
It is crucial that the most vulnerable in our communities are made aware of the support available to them and we just ask if you could help at least two people or two families in your community who you think will benefit from the information, ensuring they are made aware of the help available and break the cycle of having to live in a cold home which so often has a negative effect on their health.
This pack contains a variety of relevant information, such as winter warmth schemes to assist those most in need as well as funding opportunities available to householders - both from a national and local perspective to ensure that people don't have to live in cold conditions.
Please visit someone in need and ensure that they access the support networks available to them, it is worth remembering too that a visit could mean so much, especially to someone who feels lonely this winter and doesn't know who to turn to. Glengetti Tea have even supported the scheme, providing us with free tea bags to distribute with the packs, so make a cuppa and some time and you have the opportunity to make a person's life a little warmer.
Figures released in November 2013 have shown that last year there were 31,000 excess winter deaths in England and Wales, that's 29% more than in the previous year. In Ceredigion, we have one of the highest excess winter death rates in Wales and many of our households are living in fuel poverty. It is clear that we need to do something - Cymdogion Cynnes will be an important scheme for Ceredigion and with your help, this has the potential to make a real difference to people's lives.
For a copy of a pack or for a presentation in your community group or organisation on the scheme, please contact Naomi McDonagh on 01545 572105.
Alternatively, download a copy of the pack: