Highways & Environmental Services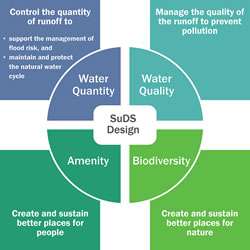 On 7th January 2019 a new service is being introduced by Ceredigion County Council to deliver new statutory legislation enacted by Welsh Government under the Flood and Water Management Act 2010.
This legislation applies to ALL new developments of more than 1 house or where the construction area is 100m2 or more.
To ensure that compliance is met in Ceredigion, a Sustainable Drainage Body (SAB) has been set up and will manage all the aspects of technical approval of sustainable surface water drainage systems.
SuDS Principles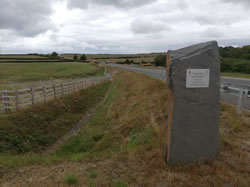 Surface water flooding has been identified as being a major cause of flooding of property and homes. Not only is the impact of this on our communities distressing and costly, the potential damage to groundwater and rivers from polluted surface water is an issue. To address the issue, Welsh Government has made it mandatory through legislation for developers to incorporate sustainable drainage solutions into design for new developments.
The implementation of Schedule 3 of the Flood and Water Management Act on 7th January 2019 places an obligation on developers to control the effects of surface water runoff. To achieve this, all designs will need to mimic the natural hydrology of each site by keeping water as close to the surface as possible.
The statutory standards introduced by Schedule 3 will aim to:
Control Quantity – volumes, frequency and flow rates
Control Quality – prevention and treatment
Provide Amenity – space, use and wellbeing
Protect Biodiversity – enhance and protect wildlife
All SuDS designed by developers must be approved by the Local Authority SuDS Approval Body (SAB) before construction begins.
Contact your SAB
You can contact us in the following ways:
By Post:
Highways & Environmental Services
Penmorfa
Aberaeron
Ceredigion
SA46 0PA
By Telephone:
01545 572572
Office hours:
Monday to Thursday 8:45 – 16:30 ; Friday 8:45 – 16:00 ; Closed on weekends & bank holidays