Ceredigion County Council wins Defence Employer Recognition Scheme (ERS) Silver Award
At an awards ceremony held in Cardiff on Thursday 22 September, Ceredigion Council Council was presented with a Ministry of Defence Employer Recognition Scheme Silver Award for their efforts in ensuring Ceredigion Armed Forces community is supported.
Ceredigion County Council was amongst 20 other winners who were awarded the Defence Silver ERS Award in Wales. In attendance were Council Leader Councillor Brian Davies, Councillor Paul Hinge, the member champion for Armed Forces and Geraint Edwards, Corporate Lead Officer for People & Organisation.
The prestigious Defence Silver ERS Award recognises employers who have actively demonstrated their support for the Armed Forces community through implementing practical policies in the workplace. Organisations must proactively demonstrate that the Armed Forces community are not unfairly disadvantaged as part of their recruitment policies. They must also actively ensure their workforce is aware of their positive policies towards Defence people issues for Reservists, Veterans, Cadet Force Adult Volunteers, and spouses and partners of those serving in the Armed Forces.
Councillor Bryan Davies, Leader of Ceredigion County Council said: "On behalf of Ceredigion County Council I would like to thank everyone involved for their continued dedication and hard work within the AFCC of Ceredigion to ensure that the residents of the Armed Forces community are fully supported within Ceredigion."
Councillor Paul Hinge, Member champion for the Armed Forces, said: "I am so pleased that the work we carry out in Ceredigion has been recognised across Wales. We have a very proactive AFCC Forum who help us deliver our covenant promises and we a grateful for their individual and collective contributions in helping us achieve this award."
For more information about the ERS Awards in Wales visit: www.gov.uk/government/publications/defence-employer-recognition-scheme
---
Signing of the Armed Forces Covenant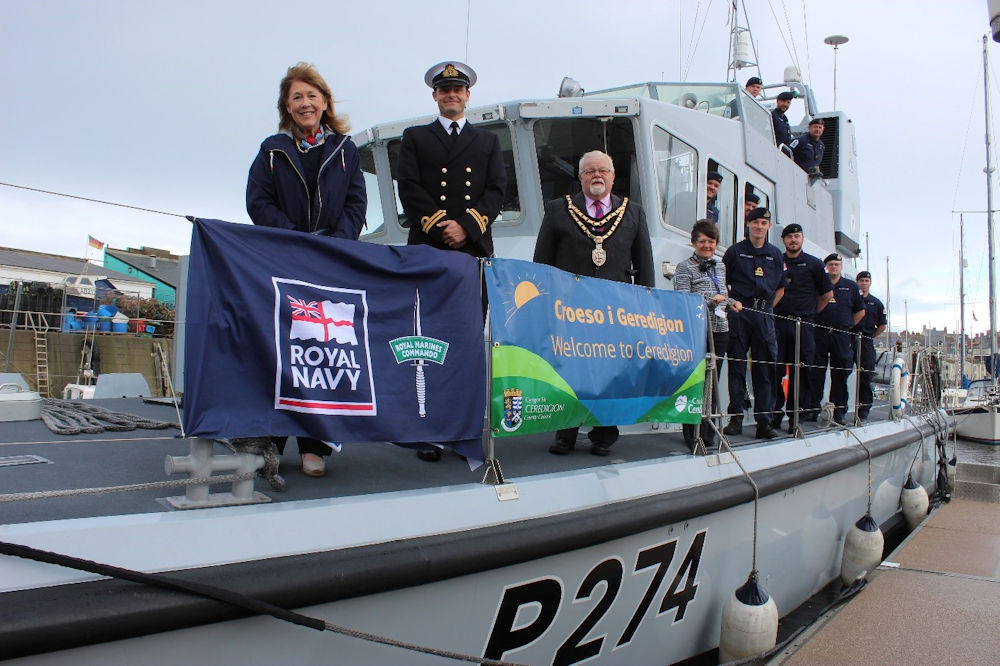 To commemorate the 10th Anniversary of the Armed Forces Covenant, on 28 September, 2021 Chairman of Ceredigion County Council and Armed Forces Champion, Councillor Paul Hinge reaffirmed the council's commitment to the Armed Forces Covenant by conducting an official signing ceremony at Aberystwyth Marina.
Organised by Ceredigion County Council and the Royal Navy, the ceremony took place on board HMS TRACKER. To ensure covid-19 health and safety measures were adhered to, only a small number of dignitaries attended the event, including Her Majesty's Lord-Lieutenant of Dyfed, Miss Sara Edwards.
Councillor Paul Hinge said: "This is an unique opportunity for Ceredigion to sign the Armed Forces Covenant aboard a Royal Naval vessel. As a County with a deep maritime history it is fitting that this prestigious ceremony is conducted on a Royal Naval vessel whilst it's berthed in the thriving marina at Aberystwyth. When we were offered the chance of conducting the ceremony on HMS TRACKER we were very pleased to accept subject to Covid regulations. As Armed Forces Champion and Chairman of the Council I'm very pleased that over the term of this council we've been able to hold many ceremonial events on 'dry land' but this one will be special as we don't get to see the Royal Navy here that often, so I'm pleased to welcome the Captain and Crew of HMS TRACKER here to Ceredigion and to Aberystwyth to conduct the ceremony on the bridge of this ship."
Following the short signing ceremony Councillor Paul Hinge and Lieutenant Thomas Reed RN, presented each other with commemorative plaques to mark the occasion.
Ceredigion County Council would like to thank The Marine Group for their assistance and support with the signing ceremony.
A copy of the signed Covenant can be seen via the link below and anyone wishing to receive additional information or who wish to be signposted to support services, they may require, can make contact us by completing "Our Online Contact Form" or contact us via post or telephone on the details provided below.
Ceredigion Armed Forces Covenant
The Armed Forces Convenant in Wales
Contact
You can contact us in the following ways:
Our Online Contact Form
By Post:
Armed Forces Covenant
Canolfan Rheidol
Rhodfa Padarn
Llanbadarn Fawr
Aberystwyth
Ceredigion
SY23 3UE
By Telephone:
01545 570881