Between the Dyfi and Teifi estuaries, you will discover a rich coastline: the dune system at Ynyslas, storm beaches, sandy bays and high cliffs. Towns and villages dotted along the coastline have a rich maritime history.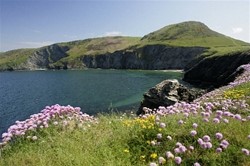 The coastline gives us unforgettable images, such as the profile of Ynys Lochtyn and the sweep of Cardigan Bay around to the Lleyn Peninsula.
Four sections of the Ceredigion coast are designated as Heritage Coast. The Ceredigion Heritage Coast was established in 1982 and comprises four separate sections of coast which extend over 22 miles (35 km):
Borth - Clarach
Monks Cave - Llanrhystud
New Quay - Tresaith
Pen-peles - Gwbert
Heritage Coasts cover the finest stretches of coast in Wales and England and seek to:
identify the finest stretches of undeveloped coast
secure their conservation and management
promote access and enjoyment
For more information visit the Ceredigion Coast Path website.