A travelling fish seller from the north-east of England pleaded guilty to two offences at Aberystwyth Magistrates' Court on Monday 02 March 2020 after he admitted failing to assist Trading Standards Officers from Ceredigion County Council's Public Protection Service. He had failed to provide any records to show who had supplied him with the fish found in his van, a legal requirement under food safety legislation.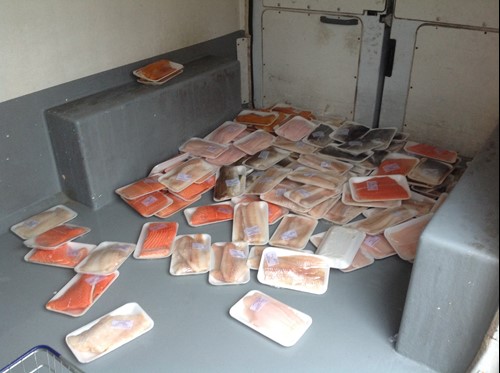 The Court heard how Alexander Hannan, a travelling fish seller trading as 'Alex Fisheries', had been making unsolicited calls to the homes of elderly residents in the County and surrounding areas in November 2018. The complainants stated that the fish was overpriced and had gone off.
With the assistance of Dyfed-Powys Police, Hannan's vehicle, a white Ford Transit van, was stopped in Llanrhystud when it returned to the County on 10 January 2019. Packs of labelled and unlabelled fish were found scattered across the floor of the back of his van when it was searched by officers from Ceredigion County Council's Public Protection Service. Hannan stated to officers that he did not have any traceability documentation for the fish, but that he could get a receipt by the end of that week. Hannan failed to produce details of who had sold him the fish later that week, and continued to fail to do so after written reminders.
When his vehicle was searched, Hannan surrendered nine packs of fish to Environmental Health Officers. Formal analyses of these packs showed that the majority had negligible remaining shelf life and some exhibited distinct odours consistent with the fish being off.
Hannan pleaded guilty to two offences contrary to the General Food Regulations 2004. The Court gave Hannan some credit for entering a guilty plea, but ordered him to pay fines and costs of over £700.
Councillor Gareth Lloyd, Ceredigion County Council Cabinet member with responsibility for the Public Protection Service warned householders of the dangers of buying from travelling salesman making cold-calls in Ceredigion. He said: "Residents need to be aware that they are taking a risk if they buy food from unknown traders. There are reputable fish sellers acting in the County with established rounds. However, if you receive a cold-call from a trader that you have never met before offering you fish out of the back of a van, see it for exactly what it is. Our Public Protection Service is there to protect consumers and take action against rogue traders who flout the law."
Any complaints about cold-calling traders may be referred to your local Trading Standards Service by calling Citizens Advice on 0845 404 0505 (Welsh language line) or 0845 404 0506 (English language line).
03/03/2020