During Autumn 2019 Ceredigion County Council staff and elected members were given the opportunity to take part in a Virtual Dementia Tour (VDT). By using specialist equipment and creating a simulated environment, the experience gave an insight into what dementia might feel like.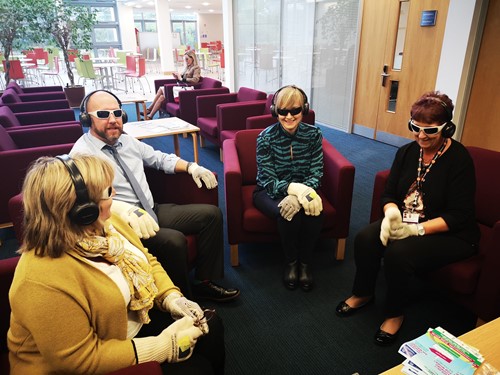 Donna Pritchard, Corporate Lead Officer Porth Ceredigion and Deputy Statutory Director for Social Services said: "This has been a very thought-provoking experience. It's allowed participants to physically and emotionally feel what it would be like to live with Dementia and to acknowledge the challenges to overcome that sensory loss brings."
Dementia is a syndrome (a group of related symptoms) associated with an ongoing decline of brain functioning. This may include problems with memory loss, thinking speed, mental sharpness and quickness, language, understanding judgement, mood, movement and difficulties carrying out daily activities.
Donna continued: "The Virtual Dementia Tour identifies ways to improve communication for people living with dementia and ways that care and support staff can change their practice to improve their lives and help them achieve positive outcomes. All our staff at residential homes have been trained to ensure that people with dementia are supported in an inclusive environment."
Visit www.training2care.co.uk for more informaiton on the Virtual Dementia Tour.
07/11/2019