With the warm, sunny and dry weather we have recently been experiencing and with the lockdown rules starting to be relaxed in Wales, the message has changed from "stay home" to "stay local", which seems like a perfect opportunity to start to enjoy the wonderful countryside and beaches that we have to offer. However, since the announcement was made on Friday 29 May, Mid and West Wales Fire and Rescue Service (MAWWFRS) have attended 98 grass fires that have either been started deliberately or were accidental.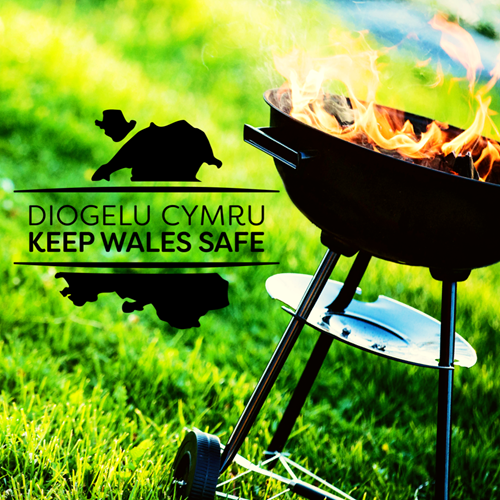 Recognising the impact that these fires are having on our communities, MAWWFRS are working in partnership with four Local Authorities (Ceredigion County Council, Carmarthenshire County Council, Powys County Council and Pembrokeshire County Council), Dyfed Powys Police, Natural Resources Wales and Cadw, in a bid to tackle this issue and to protect the historic environment, natural habitat and surrounding countryside.
Ellen ap Gwynn, Leader of Ceredigion County Council said: "Fires can cause havoc and destroy lives. Each and every one of us has a responsibility to be mindful of the people, animals, natural habitats and buildings that are around us. We thank our residents who are keeping our communities strong and resilient during these challenging times by taking the correct precautions and following safety advice regarding fires and BBQ's."
During the summer, grass and mountains can become very dry, which means if you deliberately or accidentally start a fire outdoors it will spread very quickly, destroying everything in its path. The damage to the surrounding landscape and the effect on historic features, habitats and wildlife largely goes unrecognised. With the climate and nature emergencies that we are all facing, wildfires are the last thing the Welsh landscape needs.
We are urging members of the public to take precautions and to follow the safety advice below:
• Extinguish cigarettes and other smoking materials properly - don't throw them out of car windows.
• Only use barbeques in suitable and safe areas, never leave them unattended and always extinguish them properly.
• Don't start fires in the countryside – dry vegetation means fires will spread quickly and easily.
• Make sure your BBQ is in good working order before you use it.
• Make sure you let your BBQ cool down after use, before you dispose or move it.
• Never start open fires in the countryside.
We need to work together to support our Communities during the COVID-19 epidemic, to ensure the safety of our family and friends, neighbours, members of the public and our emergency services. Deliberate grass fires reduce air quality as well as stretch valuable emergency services away from lifesaving incidents, so we are appealing to everyone to help us to help them at this difficult time.
If you see anyone setting deliberate fires, please call the Police on 101 or Crimestoppers anonymously on 0800 555 111. To report an ongoing grass fire, please call 999 and ask for the Fire Service.
25/06/2020