Colin Harding, a model railway layout builder based in Ceredigion has been sentenced to a 6 month custodial sentence, suspended for 15 months, after pleading guilty to fraud and supplying unsafe electrical goods.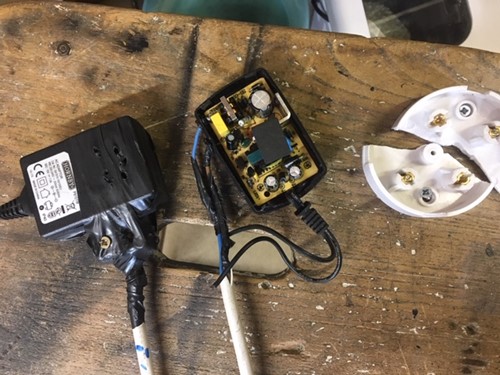 Colin Harding, of Pontsian, Ceredigion whose trading names included 'Model Railway Layouts', had pleaded guilty to four fraud offences and one safety offence earlier this week at Aberystwyth Magistrates' Court. He was also sentenced to 120 hours unpaid work.
The Court heard how Harding had taken payments of over £15,000 from customers as part of his business which he ran from home. He offered a service to design and construct model railway layouts but failed to provide any orders to those customers that he had defrauded. The Court heard that when he did supply a layout to one of the complainants, it was considered so unsafe by an expert electrical engineer who examined it that there would have been a high risk of electrical shock to anyone using it.
Harding gave a range of excuses to his customers for non-completion of work, including debt and other personal problems. His solicitor, told the court that Harding had spent the deposits on general living costs.
District Judge David Parsons noted in his summing up that the persistence of the frauds, the amount of money involved and the continued excuses given to his clients, made these serious offences and therefore the sentence immediately crossed the custody threshold. However, given Harding's lack of previous convictions he suspended Harding's six-month sentence for 15 months and ordered Harding to carry out 120 hours of unpaid work. He was also ordered to pay compensation of over £4000 to the complainants.
Councillor Gareth Lloyd, Cabinet member with responsibility for Public Protection said, "Dishonest traders need to be aware that persistent offending of this nature is likely to attract harsh penalties. The Ceredigion Public Protection team acts not only to protect consumers from dishonest traders, but also to help maintain trust in the honest traders who are in the majority in Ceredigion's business community."
"I urge any consumers who believe that they are being defrauded by unscrupulous businesses to report the matter to Citizens Advice consumer helpline on 03454 040505 (Welsh language line) or 03454 040506 (English language line). The Public Protection team works in partnership with Citizens Advice and any matter reported will be notified to the relevant local authority."
23/07/2019