At the end of Adult Learners' Week, Ceredigion Adult Learning Partnership held their Inspire! Awards where eight awards were presented. The adult learners from across Ceredigion, who have overcome challenges and barriers, were recognised for their achievements.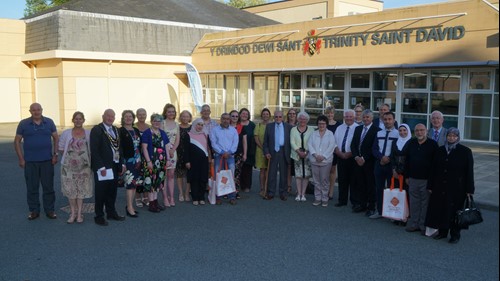 Haf Shannon Burrill, Max Jenkins, Morgan Owen, Jennifer Lewis, Siani McDowell, Jessica Harvey, Najlaa Jamal, Bashar Mardenli, Latifa Al Najarr, Rakan Al Najarr and Ahmad Sultan were all presented with major awards for learning as part of a prestigious award ceremony held on 22nd June 2018 at the Arts Hall, University of Wales Trinity Saint David, Lampeter.
In addition to the learner awards, Alison Bryan of Dysgu Bro was awarded with the Tutor of the Year Award.
Councillor Catherine Hughes, Cabinet Member with responsibility for Community Learning said, "The Ceredigion Inspire! Awards celebrate the achievements of outstanding adult learners in Ceredigion who have shown exceptional passion, commitment and drive for learning, often in the face of difficult circumstances. We're very proud of them all and look forward to hearing of their future developments."
Adult Learners' Week is organised by the Learning and Work Institute with the support of the Welsh Government and ran from 25th June to 1st July. It celebrates lifelong learning, whether work-based, as part of a community education course, at college, university or online. Now in its 25th year, it aims to promote the range of courses available to adult learners, from languages to computing and childcare to finance.
Corporate Lead Officer for Lifelong Learning and Culture, Elen James said, "It was a pleasure to attend the Ceredigion Inspire Learner Awards evening in Lampeter and to observe these adults receiving various awards and accreditations. The Adult Learning Partnership provision is hugely valuable to adults in Ceredigion as it offers a wide range of opportunities and training to the citizens of Ceredigion. The number of achievements this year is a reflection of our learners' committment and enthusiasm and it was a pleasure to welcome so many learners and their families to celebrate with us this year. Congratulations to you all!"
The winners were:
Haf Shannon Burrill – Young Adult Award. Haf has shown commitment to her learning. She is in her final year of her Level 2 Plumbing apprenticeship at Hyfforddiant Ceredigion Training
Najlaa Jamal, Bashar Mardenli, Latifa Al Najarr, Rakan Al Najarr, Ahmad Sultan – Different Past: Shared Futures Award. This group of learners have shown great progression in developing their digital literacy and language skills
Max Jenkins – Ageing Well. Max has been attending computer classes at Dysgu Bro Ceredigion for a number of years and always interested in gaining more knowledge
Jennifer Lewis – Life Change and Progression Award. During her time learning British Sign Language at Dysgu Bro Ceredigion, Jennifer also had caring responsibilities. Despite having to juggle hospital appointments and care commitments at home, she committed herself to learning. She said that learning has helped her and she recognised the value and benefit of learning
Siani McDowell – Award for Health and Wellbeing. Siani has made every effort to access all the support available in order to make a success of this year at Coleg Ceredigion, and it has paid off
Jessica Harvey – Welsh Learner. Jessica has been working very hard to improve her Welsh language skills by conversing more through the medium of Welsh during class activities at Coleg Ceredigion and whilst on placement. She has also gone through to Medal y Dysgwyr competition with the Urdd, reaching the final 4 candidates
Morgan Owen – 'Into Work' award. Morgan studied on the Traineeship Engagement Programme at Hyfforddiant Ceredigion Training and has since gone on to do a placement in a local Motor sport store
Alison Bryan – Tutor of the year. Alison has been described as inspirational, enthusiastic, supportive, caring, encouraging and fun. She uses a wide range of engaging and dynamic teaching methods at Dysgu Bro Ceredigion to ensure that everyone's learning needs are met. She gives additional support to learners outside of the classroom in her own time, organising socials with other BSL learners and users. She travels great distances to deliver BSL classes across several counties. She's dedicated and passionate in her endeavours to raise awareness of the issues affecting deaf people
For more information about Community Learning, contact Dysgu Bro on 01970 633540 or admin@dysgubro.org.uk.
Image: Ceredigion Inspire! Award winners with representatives from Ceredigion Adult Learning Partnership, Ceredigion County Council, Assembly Member and Member of Parliament.
17/07/2018