An innovative pilot scheme has been launched in North Parade, Aberystwyth to help promote positive waste behaviours in the town centre.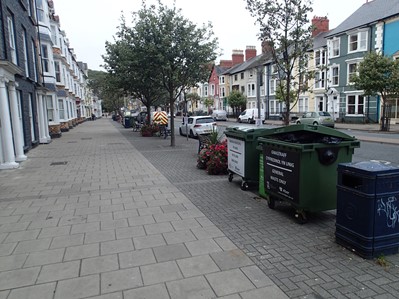 The initiative sees communal wheelie bins being delivered to the pilot area on the afternoon before the usual scheduled waste collections. The bins provide a means of containing the waste for the time between it being presented and being collected. Protecting the waste from attack by animals, including seagulls, will help keep the town centre's streets clean.
The new approach will also help support more local residents, especially those living in properties where space to store waste is limited, to make full use of the weekly recycling and food waste collection services. Reducing the amount of recyclable waste that goes into black bags is not only better for the environment but it also helps ensure it is dealt with in the most efficient and cost effective way possible.
The days and frequency of waste collections will remain the same with wheelie bins being provided each week for clear recycling bags and food waste and fortnightly for black bags. Waste should be presented in the correct wheelie bin by 8am on the day collection.
Once the waste is collected the wheelie bins are removed which avoids problems that would arise if they were left there permanently which includes causing unnecessary street clutter and obstructions as well as potentially being misused and attracting fly-tipping.
Councillor Dafydd Edwards, the Cabinet member responsible for Highways and Environmental Services said, "I am fully supportive of this initiative. It is an example of the Council working in partnership with communities on resolving issues. I wish the initiative every success and look forward in the future, to further working closely with our communities on finding creative solutions to the issues we are all concerned about."
The scheme started on 6 and 7 August 2018. If it proves to be successful, consideration will be given to extending the pilot to other areas where it may work. Consideration is also being given to other ways of further supporting positive waste behaviours in Aberystwyth and Ceredigion in general ahead of a new domestic waste collection system that will be introduced in 2019.
13/08/2018