Originally from St Clears, I've had a varied work history ranging from training to be a builder when I left school to working within the medical records department in West Wales General Hospital. I studied for a law degree in Bristol and originally planned to train to be in the probation service, however I moved up to Ceredigion in 2004 after meeting my wife and started working at a local spring water bottling company, which I thoroughly enjoyed as it helped me develop a good relationship with the local community through talking to customers on a regular basis.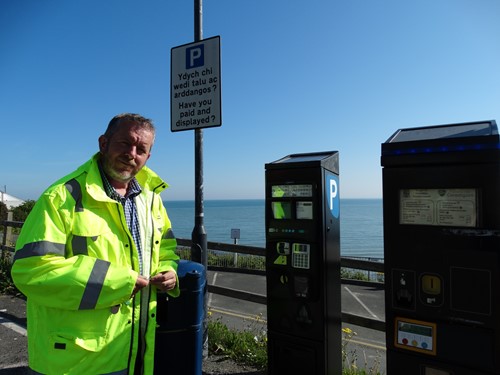 New horizons
After nine years with the spring water bottling company, I felt it was time for a change. I saw the position of Civil Parking Enforcement Officer advertised and decided to apply for the role. I was a bit apprehensive at first, fearing that the way the role is portrayed on the television would be a true reflection of reality but thankfully, after being successful in being offered the job and beginning in my new role, I soon found out that it's nowhere near my actual day to day job.
Being a Civil Enforcement Officer
During the first few months in my new role I met a lot of people being very positive and supportive towards me as many residents of Ceredigion could still recall a period when there were no Parking Service Officers on duty in the county and the chaos that it caused.
I was very lucky to have a great support team around me from Katy, Alun and Gerwyn in the office or out and about with Nicola who spent a lot of time at the start training me thankfully!
The main aim of the role is to help maintain the free flow of traffic and encourage compliance with parking restrictions. Being compliant with parking restrictions really does play an important part in maintaining road safety for drivers as well as pedestrians.
The job has its difficult moments but also has its good moments where you feel that you are really making a difference. It has its funny moments too - I was once chased up Marine Terrace by a Dalek threatening to exterminate me if I booked his spaceship. Thankfully they moved on before I had to issue a Penalty Charge Notice (PCNs)!
The job is varied. I can spend a lot of time during the summer providing information to the large volume of visitors who come to Ceredigion for their summer holidays; I'm more than happy to help them and I've learnt a lot about Ceredigion myself this way. We're lucky to have a county that boasts of beautiful scenery, both inland and coastal areas.
Progressing to Parking Services Team Leader
After three years in this role, a position became available as a Parking Services Team Leader and thankfully, I was successful in securing the role. The new role requires me, along with two of my colleagues, to manage the other Civil Enforcement Officers, car parks and deal with an extensive list of duties including: enquiries, complaints, season tickets and waivers. Did you know that you can now apply for Car Park Season Tickets online? As well as the convenience of not having to carry money for the machines, if you use our car parks regularly, you could save up to 79% on the cost of daily parking by buying a Season Ticket.
My job is varied and fast-paced which requires the ability to adapt to different issues that can arise across the county. Ceredigion contains lots of very different areas to each other and this means that the service has to be adaptable and flexible where possible.
We cover the entire county and over the summer our work load increases considerably. We are a small team who have a large area to cover, so bear with us.
Caru Ceredigion
We operate under the Caru Ceredigion principal and are led by education not enforcement. Caru Ceredigion's is all about inspiring everyone in the County to promote the positives in terms of behaviours, attitudes.
Our primary aim is to ensure the free flow of traffic, the turnover of time limited bays and the correct use of bays, for example, Blue Badges and that dropped kerbs are still clear and accessible for all.
Partnership working
We are currently working with Dyfed Powys Police to try and ensure the safety of pedestrians during school collection time. PCSO Mary Weller and I are currently visiting primary schools within Aberystwyth to try and educate the parents with regards to safe parking practices during school drop off or collection. We are having a positive effect whilst doing this and the parents have been really supportive of our approach.
Ceredigion's Civil Parking Enforcement Team
As a team we have to be extremely flexible and mobile. We're operational seven days a week, including evenings and Bank Holidays. I'm proud that I'm part of a team that's committed to ensuring that roads are free-flowing as possible and safe for both pedestrians and drivers.
After a successful trial, we have recently introduced 11 new pay and display machines that accept chip and pin and contactless payment. In line with our replacement programme we will continue to increase the number of machines that accept card payments and our future plans include investigating the introduction of a phone based App.
For more information on the Ceredigion's Civil Parking Enforcement Team, or to apply for Car Park Season Tickets online, head to the Travel, Roads & Parking section on www.ceredigion.gov.uk or phone 01545 572572.
20/06/2018