Some of Ceredigion's Fostering Families enjoyed a dolphin spotting boat trip in New Quay on Sunday, 25 June 2023.
The trip was arranged by the Foster Wales Ceredigion Team as part of a programme of monthly activities organised specifically for Fostering Families in Ceredigion. 
Although some menacing-looking black clouds had gathered over New Quay harbour, the rain held off and the families managed to stay dry. The group, which included foster carers, their children and the children they look after, spotted eight dolphins during the one-hour trip.
The idea behind the Fostering Families Activities is to provide the opportunity for the whole fostering family to take part in an activity together and to recognise the invaluable role each member of the family plays in supporting vulnerable looked after children.
Maureen Keane, a foster carer in Ceredigion, said: "We all enjoyed the trip especially our young person, as we hadn't told her she was going. It was her first time on a boat and she thoroughly enjoyed it".
Sandra Jones, Foster Wales Ceredigion Team Manager, added: "It's not very often an activity is organised for the whole fostering family to participate in together. We want to offer our foster carers, their children and the children they look after the opportunity to come together along with other fostering families in Ceredigion and take part in some exciting activities throughout the year."
As well as the New Quay boat trip, Ceredigion fostering families will have the chance to take part in a bushcraft and woodland taster day, outdoor activity days, craft sessions and a variety of other activities.
Councillor Alun Williams, Ceredigion Cabinet Member for Through Age Wellbeing, said: "I would like to congratulate the Fostering Team at Ceredigion for organising such a wholesome experience for our fostering families. There is definitely a sense of family in this team, and if fostering is something you are considering, you will be supported every step of the way."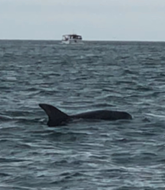 Could you make a difference to a child's life? Have you ever considered fostering? If you have a spare bedroom then fostering could be for you.
There are many types of fostering, from providing a long-term home to offering just one weekend a month to support a child in need. The Foster Wales Ceredigion team are on hand to support you through every step of your fostering journey. 
To find out more about becoming a foster carer in Ceredigion visit Foster Wales or contact the Ceredigion Fostering Team on 01545 574000 or email clic@ceredigion.gov.uk.
05/07/2023