A new Local Places for Nature garden has been opened for residents at Gerddi'r Ffynnon, Trefechan, Aberystwyth.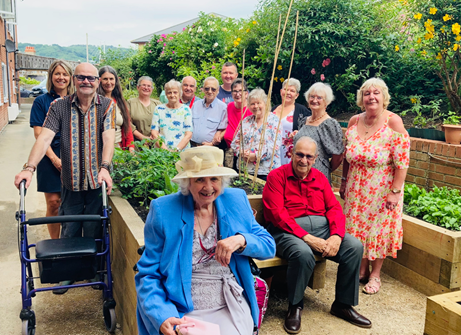 Gerddi'r Ffynnon is a 3-storey block of 30 flats, which is owned and managed by Wales & West Housing (WWH). It has a communal garden, largely comprised of steeply sloping ground behind a retaining wall, plus a relatively small area of flat ground surrounding the building. 
In 2022 Rhiannon Ling, a Community Development Officer at WWH approached Rachel Auckland, Coordinator of Ceredigion Local Nature Partnership, with a proposal for a garden restoration project.
Hefin Jones, Asset Management Officer for WWH, prepared a sketch plan to build more raised beds, and presented this to the residents' social club. 
Using Welsh Government funding provided through the Local Places for Nature scheme, Rachel was able to bring in Gail Robinson, a garden designer from My Garden Paradise. Gail talked to residents at their weekly coffee morning and drew up a plan to create raised beds of different shapes and sizes to meet the diverse access needs of residents who use a range of mobility aids. 
The garden was opened on Saturday, 17 June 2023, by Councillor Keith Henson, Ceredigion Cabinet Member for Highways and Environmental Services and Carbon Management. He said: "What a privilege to open the Gerddi'r Ffynnon gardens, planned and sown and grown by the residents and friends of the flats. It's great to see Wales & West Housing help residents achieve their aims for the garden through support from the Ceredigion Local Nature Partnership. We hope to see the garden blossom as has the relationship between residents and the housing association. Llongyfarchiadau."
Rachel Auckland, Ceredigion Local Nature Partnership Officer, added: "It's lovely to see how a nature-based gardening project of this kind can bring so many benefits both to wildlife and to our communities. This project has been a great learning experience for everyone involved. We hope to build on the knowledge, skill and confidence gained to go on and create more Local Places for Nature around the county – watch this space.
Of course, Aberystwyth is part of the UNESCO-designated Dyfi Biosphere reserve. Among their many achievements, the Biosphere has helped to reverse the in numbers of swifts by putting up nest boxes which are specially made for these amazing birds. I'm hoping that we can extend this project to install swift boxes here at Gerddi'r Ffynnon and at other WWH sites, including Maes y Môr which is not far from here."
Rhiannon Ling, Community Development Officer at Wales & West Housing, said: "This project has already achieved so much. It has brought the residents of Gerddi'r Ffynnon together as a community whilst designing and developing the garden. They are so proud of what they have achieved and so they should be. Together we can make a real difference to the lives, homes and communities of our residents".
Barry Adams, a resident at Gerddi'r Ffynnon, added: "When I contacted Rhiannon Ling back in June 2022, I didn't foresee the incredible efforts that residents would make. There was so much enthusiasm from neighbours who previously hadn't been interested in the gardens and it's all credit to those who have made such a wonderful contribution. I want to thank them all for turning a once dreary and overgrown eyesore into a beautiful place to sit and soak up the atmosphere of wildlife and the scents of flowers and a wildflower meadow."
George Bryan, Chair of the Resident's Social Club, said: "It all started with Barry, one of the residents, who suggested that we replaced the raised beds at the rear of the property. So we contacted Rhiannon at Wales & West Housing to see if we could get funding and she put us in touch with Rachel at Ceredigion Local Nature Partnership. We applied for a grant and we were successful. We then decided to recreate all of the garden. This is not a show garden, it is a loved garden and is always evolving. We now have an amazing amount of birds and wildlife visiting the garden. We have 11 residents who have taken over the maintenance of parts of the garden. The garden has certainly enhanced the community of Gerddi'r Ffynnon as more and more become involved."
The 'Local Places for Nature' scheme support nature recovery on a local scale by improving biodiversity while bringing benefits to deprived communities. It does this by creating 'nature on your doorstep'. The idea is that by bringing people into closer contact with nature, whether it be tree planting, food growing, or sowing wildflower seed for pollinators, people will be more likely to value, care for and protect nature. 
20/06/2023