Members of the public are encouraged to participate in any new consultations issued by the Council and voice their opinions on matters which could affect them locally.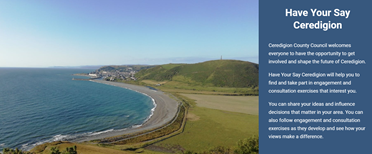 As well as more traditional forms of engagement, a platform has been launched on the Council's website where people can browse and find all the live consultations which are run by Ceredigion County Council. You can find the portal here: Have Your Say Ceredigion
During the summer of 2022, the Council ran a public consultation on the Engagement and Participation policy, which is called 'Talking, Listening and Working Together'. As a result of feedback, the policy has been updated with a key focus on striving for improving communication and engagement with the wider public in Ceredigion. There is also a focus to involve Town and Community Councils.
Councillor Matthew Vaux, Cabinet Member for Partnerships, Housing, Legal and Governance and Public Protection, said: "Communication and engagement with the people of Ceredigion is of the utmost importance to the Council. I would like to encourage anyone to keep an eye out and take part in any consultations that are published by the Council to ensure that your voice is heard and your views are considered. Remember that it is also possible to contact the Council for information about current consultations by contacting our Clic on 01545 570882 or visit the Customer Services desks at the Council libraries."
People are reminded that they can access information at the Customer Services desks at Ceredigion Libraries, including Aberystwyth Library in Canolfan Alun R Edwards, and Aberaeron, Lampeter and Cardigan libraries.
Enquiries can also be made through Clic, Ceredigion's Customer Services portal on the Council's website, by calling 01545 570881 or by email clic@ceredigion.gov.uk.
04/10/2022