Elections for Police and Crime Commissioners (PCCs) take place every four years. The Election was due to take place in 2020; however, due to COVID-19, these were postponed to 6th May 2021.
PCCs are elected representatives who oversee how crime is tackled in a police force area. Their aim is to cut crime and to ensure the police force is effective.
For more information regarding the election and about the candidates, visit www.choosemypcc.org.uk .
---
Ceredigion County Council is the lead authority – the Police Area Returning Officer (PARO), for the Dyfed-Powys Police Area, which covers Carmarthenshire, Ceredigion, Pembrokeshire and Powys.
Police and Crime Commissioner elections use the Supplementary Vote (SV) system.
The ballot paper will list the PCC candidates, with two columns for marking your first choice and second choice.
In the first column, you mark a cross next to the candidate who is your first choice. For your vote to be counted, you need to cast a first choice vote.
In the second column, you can mark a cross next to the candidate who is your second choice. You don't have to mark a second choice.
If only two candidates stand in the area, the election will use the first-past-the-post system. You can only vote for one candidate, by putting a cross [X] in the box next to your choice.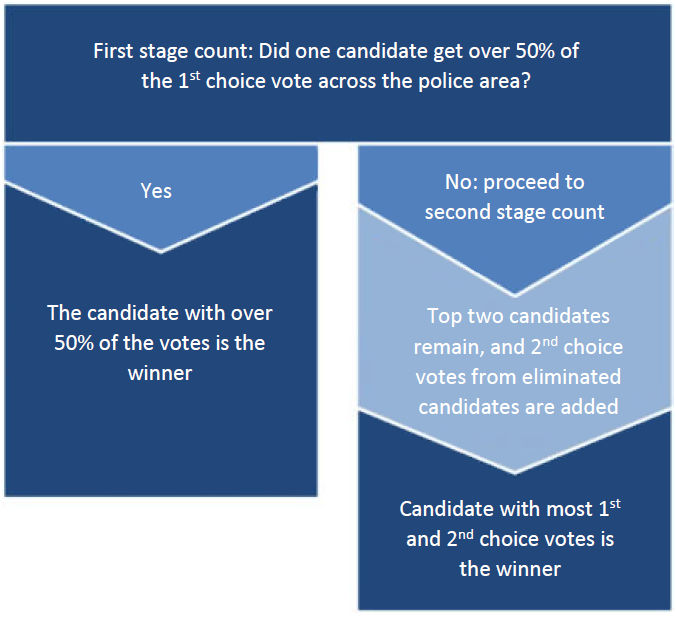 Each local authority will count their own votes and provide these to the PARO. Once all the results are collated, the PARO will declare who has been elected for the Dyfed Powys Police area and the result will be published on this website. This will be on Sunday, 9th May 2021.
For Police and Crime Commissioner Election, you must be:
Registered to vote. If you're not already registered, visit gov.uk/register-to-vote
Eighteen or over on 6 May 2021.
A British, Irish, EU, or qualifying Commonwealth citizen*.
*A qualifying Commonwealth citizen is someone who has leave to enter or remain in the UK or does not require such leave. The list of qualifying countries, British Crown Dependencies and British Overseas Territories can be found on the Electoral Commission website.
Student voters – only for Police and Crime Commissioner Elections
Higher education students may be eligible to register to vote at both their home and university/college address if they are in two different local authority areas.
They can vote in local elections in both areas as they would be voting in two separate polls. They will need to consider whether to register to vote in both areas and whether to make postal or proxy vote applications as necessary. More details can be found on the Electoral Commission website - Students.
The following groups are legally excluded from voting in Wales:
A convicted person (though remand prisoners, as yet not convicted prisoners and civil prisoners can vote if they are on the electoral register).
Anyone found guilty within the previous five years of corrupt or illegal practices in connection with an election.
Registering to vote
For candidate and agent queries relating to the PCC election, please go to the Candidates and Agents page.