This page includes an overall map of the Ceredigion County Council area. Wales is made up of 22 local authorities, which in turn are divided into electoral wards and communities.
From May 2022, there will be changes to the electoral wards in Ceredigion. There will be 34 electoral wards, represented by 38 elected Councillors. Aberystwyth Penparcau, Aberystwyth Morlais a Glais, Beulah and Llangoedmor and Aberporth an Y Ferwig will be represented by 2 elected Councillors each.
The boundaries of many electoral wards will be changing from May 2022.
Location Map
You can click on the map to identify your Ward.  You will also see markers identifying polling stations for that particular Ward.  Click on one of these markers for full details.
Example map showing Ward boundary and polling station marker.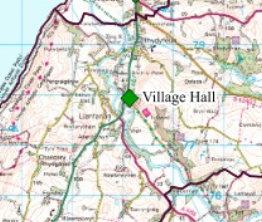 © Crown copyright and database rights 2022 Ordnance Survey 100024419 – OS products. Use of this data is subject to
terms and conditions.