Supporting unpaid carers in employment
Research shows that around 600 people a day, in the UK, quit their job to care for a loved one who is older, disabled or seriously ill .
There is also evidence to show that the impact of staff turnover, absence and stress as a result of juggling work and caring could be costing UK businesses over £3.5 billion every year, so there are significant savings to be made by better supporting carers to manage work alongside caring.
To find out more about how your business can support unpaid carers in Ceredigion, download the new information pack for small and medium enterprises*.
*Organisations with less than 250 employees
The pack contains information about:
the benefits of supporting unpaid carers in employment.
carers rights.
how organisations can help to support unpaid carers in the community, including information about local initiatives.
how to get free members access to the Carers Wales, Employers for Carers Digital Hub website
Download the digital information.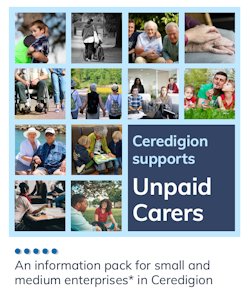 Digital Information Pack
If you require any further information, please contact the Carers and Community Support Team
Carers and Community Support Team
Canolfan Rheidol
Rhodfa Padarn
Llanbadarn Fawr
Aberystwyth
Ceredigion
SY23 3UE
01970 633564
carersunit@ceredigion.gov.uk
If you are a carer looking for information about your rights as an unpaid carer in employment, you will find more information here. Carers' rights in work