Following the successful launch of the Ceredigion Adult Carers Card launched at the beginning of October, Ceredigion is proud to be the first county in Wales to launch a Young Carers Card as part of the Welsh Government National ID Card initiative. The aim is that each area of Wales will have a Young Carers ID Card by 2022.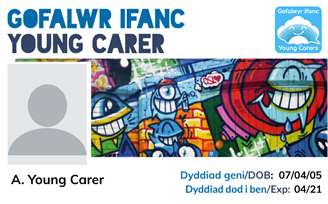 The development of this card has involved working in collaboration with partners in the Welsh Government, Carers Trust Wales, as well as Young Carers.

A Young Carer is someone who looks after a friend or family member who cannot manage on their own because they have an illness, poor health, disability, mental health issue or an addiction. According to Social Care Wales, it is estimated there are approximately 30,000 carers under the age of 25 in Wales.

The Ceredigion Carers Unit has worked with supermarkets in the county to support the recognition of the card, to enable Young Carers to access preferential shopping slots during Covid-19 Lockdown Measures, and longer term will work with Schools, Pharmacists, Council facilities such as leisure centres and GP Surgeries, with the support of our partners, Carers Trust, to ensure that the bearer of the card is recognised as having caring responsibilities.

Sara Humphreys, Ceredigion County Council Interim Carers Development Officer, said: "Covid-19 has made life difficult for everyone including Young Carers. The Ceredigion Carers Unit has worked hard to efficiently develop this scheme, as we believe it can support Young Carers in overcoming some of the challenges brought to their caring roles as a result of the pandemic."

The card will launch on 2 November 2020 via an online webinar. Guest speakers will include Deputy Minister for Health and Social Services, Julie Morgan; Leader of Ceredigion County Council, Ellen Ap Gwynn; Ceredigion County Councillor and Carers Champion, Catherine Hughes; and Carers Trust Wales Head of External Affairs, Kate Cubbage.

Julie Morgan, Deputy Minister for Health and Social Services, said: "The current pandemic has had – and continues to have – a major impact on us all, including Wales' young carers. From balancing caring during a national lockdown whilst also doing school work at home and carrying out vital tasks such as shopping – I am very aware of how difficult their situation has been. That's why I believe a young carers' ID card is so important; we want young carers to be recognised, helped and supported to access services wherever and whenever they need them. I am pleased that with support from Carers Trust Wales and £200,000 of Welsh Government funding for local authorities to plan and test new ideas for an ID card, we can look to implement a national model across every area of Wales by the end of 2022 and follow Ceredigion Council's lead with today's launch."

Councillor Catherine Hughes, Carers Champion and Cabinet Member for Porth Ceredigion, Early Intervention, Wellbeing Hubs and Culture, said: "It is a pleasure to be a part of today's launch of the Ceredigion Young Carer Card Scheme. Furthermore, it is an honour to be Ceredigion's Carers Champion, and being able to work closely with Ceredigion's Carers Unit and our partners for the benefit of carers across the County. I see first-hand, on a daily basis the support that is offered to carers, and the ID card for young carers will be another great addition to Ceredigion."

Kate Cubbage, Head of External Affairs for Carers Trust Wales, added: "Carers Trust Wales is pleased to have worked with Welsh Government and Local Authorities across Wales to develop a national ID card model that will be available for all young carers across Wales by 2022. We are delighted that Ceredigion County Council is today launching the very first ID card under the new national model. The card and supporting resources will help to empower young carers to speak openly with health, social care and education professionals about the help and understanding they may need because of their caring role. They will also give professionals the tools and information they need to recognise young carers and to give them the respect, information, advice and support they need and deserve."

For more information and to apply for a Young Carer Card, please visit our website or call 01545 570881.
02/11/2020