On 10 November 2017, over 200 young people from across the UK gathered in the Houses of Commons Chamber, to take part in the annual UK Youth Parliament takeover debate, chaired by the Speaker of the House of Commons, the Rt Hon John Bercow MP. Member of Youth Parliament (MYP) Wil Rees, the former Vice-Chair of Ceredigion Youth Council and former pupil at Ysgol Gyfun Gymunedol Penweddig, now a first year politics student at Cardiff University, represented the young people of Ceredigion.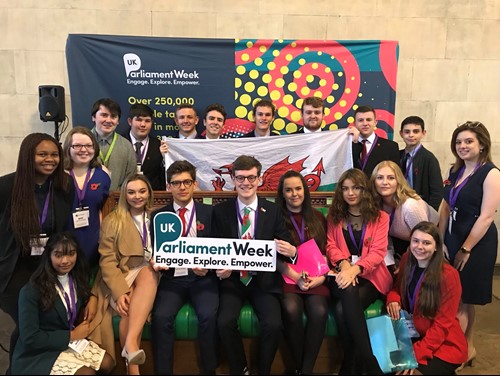 Following on from the Make Your Mark Campaign, led by Ceredigion Youth Service, many matters important to the lives of young people were discussed including protecting LGBT+ people, votes for 16 and 17 year olds in all public elections, work experience hubs for 11-18 year olds, making public transport cheaper, better and accessible for all and a curriculum to prepare us for life.
The Members of Youth Parliament decided that lowering the voting age to 16 and a 'Curriculum to Prepare us for Life' were the priority areas for young people for 2017-18. Wil Rees will now arrange to meet with Ben Lake MP, to discuss and where possible to incorporate the changes set out by the UK Youth Parliament vote in 2017, in order to improve the lives of young people locally here in Ceredigion.
Wil Rees, MYP for Ceredigion said, "It was a great honour to represent the young people of Ceredigion this year in the House of Commons at the annual UK Youth Parliament debate. Just being able to sit on the green benches of the Commons was a great feeling, made even better by the fact that I was there representing my peers back home in Ceredigion. The Youth Parliament voted to make a curriculum for life and reduce the voting age to 16 - the two main priority campaigns for this year. Despite not having the opportunity to speak myself, I look forward to now meeting and working with Ben Lake MP in order to see how we are able to begin achieving these goals."
Catrin Miles, Cabinet Member with responsibility for Children and Young People's Partnership said, "It's vitally important that young people are given a platform to raise their voice and opportunities to take part in the political process. The UK Youth Parliament is an opportunity for Westminster to hear young people raising the issues they care about most. We are very proud of Wil as Ceredigion's young representative, and we wish him the best of luck in supporting to implement changes locally".
Lowri Evans, Deputy Principal Youth Officer, Ceredigion Youth Service, said, "Throughout the year, Ceredigion Youth Service works in partnership with Young Wales to facilitate opportunities for young people from Ceredigion to have their say on various issues or topics that affect them. Wil was an avid member of Ceredigion's Youth Council and was elected to represent Ceredigion's young people in the this year's UKYP takeover event in London. We will now be supporting Wil with his local campaigns, for young people across the County to benefit from."
28/11/2017