A travel restriction will come into force in Wales from 6pm on Friday 16 October 2020.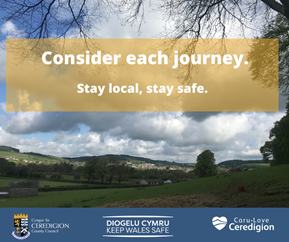 This was announced by Welsh Government's First Minister, Mark Drakeford, as an urgent action to prevent the spread of the coronavirus.
From Friday afternoon, people living in areas with a high-prevalence of coronavirus in England, Scotland and Northern Ireland will not be able to travel to Wales for the time being. This also means that people who live in parts of Wales where there are local coronavirus restrictions cannot travel outside those areas. A list of local Covid-19 alert levels in England is available on the UK Government's website, and the Welsh Government's website includes information about the local restrictions which are in place in Wales.
Ceredigion County Council welcomes this announcement because the county, as it stands, has a relatively low coronavirus infection rate. But we all know how quick things can change, and Ceredigion has seen the number of cases double in the county since September.
We are all aware that the number of coronavirus cases is rising across Wales, and everyone is urged to follow all guidelines to protect all members of our society, including our most vulnerable individuals. People are reminded to stay apart to play their part this winter by limiting their social contact as much as possible. Remember, in Ceredigion, you can only meet indoors with members of your extended household, and no more than 30 people can meet together outdoors.
In light of this announcement, visitors planning to travel to Ceredigion for a holiday from an area of high prevalence of coronavirus are advised to contact their accommodation provider to discuss their booking in order to either cancel or move the booking to another date.
We urge everyone to take these steps seriously to keep our families, our friends and our communities safe.
For all the latest information on Ceredigion's coronavirus response, visit the Council's website or call 01545 570881. This also coincides with Ceredigion County Council's Winter Strategy to protect the health and wellbeing of people in light of the coronavirus pandemic. You can read the strategy here: Winter Strategy.
Together we can keep Ceredigion safe.
Stay local, stay safe.
16/10/2020