The 'Tlws yr Eidalwyr' (Welsh for Trophy of the Italians) has returned to Ceredigion before the Ceredigion National Eisteddfod in 2020. The trophy is transferred from one county council to another as the Eisteddfod travels around Wales.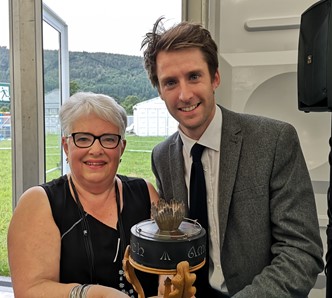 The trophy was transferred to Ceredigion County Council from Conwy County Borough Council at a ceremony on the Maes at the Llanrwst Eisteddfod this year. The Leader of Ceredigion County Council, Councillor Ellen ap Gwynn, accepted the trophy from the Leader of Conwy County Borough Council, Councillor Samuel Rowlands.
Although the home of the trophy changes annually, it has deep roots in Ceredigion. It was designed by renowned jeweller Rhiannon Evans who herself comes from the National Eisteddfod's home in 2020, Tregaron; as is Iestyn Evans, who produced the silver work. Dafydd Jones of Llanybydder worked on the slate and Conway Morgan of Pentre'r-gât created the oak plinth.
It was named 'Tlws yr Eidalwyr' because of the unique connection of the Welsh people with Italian prisoners of war who were detained at Henllan in South Ceredigion for a period during the Second World War. After the war, an association of former Henllan prisoners wanted to present a permanent trophy as a gesture of gratitude to the Welsh people for the friendship, kindness and sympathy shown to the Italians while they were prisoners at Henllan.
The striking trophy clearly shows the words 'Heddwch', which is Welsh for 'Peace'; and 'Amicizia', which is Italian for 'Brotherhood.'
Councillor Ellen ap Gwynn is the Leader of Ceredigion County Council. She said: "It was a privilege to receive 'Tlws yr Eidalwyr' at the Llanrwst National Eisteddfod. The origins of the trophy are in Ceredigion and indeed partly in Tregaron. The encouraging message of the trophy continues to be important and current in our world today. A special relationship was developed between the Italian prisoners of war and the residents of Henllan – the trophy is a lovely and striking way to mark that relationship.
In the same spirit, we look forward to welcoming everyone to the Ceredigion National Eisteddfod in 2020."
The trophy will be transferred to Gwynedd Council at the Ceredigion National Eisteddfod field in Tregaron in 2020.
09/10/2019