On 9 April 2019, Ceredigion Youth Council elected Thomas Kendall as the county's new Member of Youth Parliament (MYP) who will represent Ceredigion in the UK Youth Parliament in 2019-2020, with Huw Jones elected as deputy member of Youth Parliament who will support Thomas.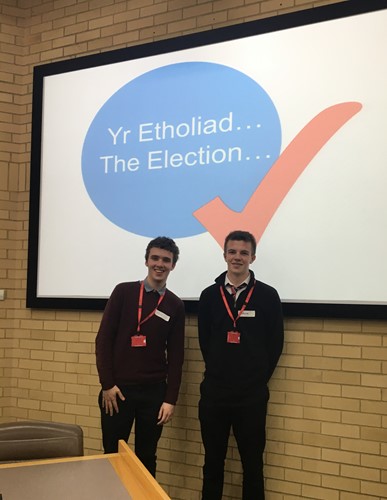 Thomas Kendall, who currently studies at Coleg Ceredigion, Aberystwyth and Huw Jones, who is a pupil at Ysgol Gyfun Aberaeron but represents Ceredigion YFC, were elected by Ceredigion Youth Council to take over from current MYP, Esme Freeman, who's term in office as MYP is coming to an end.
Thomas and Huw will embark on their new roles as MYP and deputy MYP in the coming months, and will undertake various activities which will lead up to the big debate in London in November 2019, where over 300 young people from across the UK will gather in the Houses of Commons Chamber, to take part in the annual UK Youth Parliament takeover debate, chaired by the Speaker of the House of Commons, the Rt Hon John Bercow MP.
Thomas and Huw will both have the opportunity to work alongside Ceredigion Youth Service to deliver the Make your Mark Campaign in Ceredigion, a nationwide ballot which will determine the issues discussed in the House of Commons. In the past, these topics have included, accessible public transport for all, protecting the rights of LGBT+ people, votes for 16 and 17 year old's in all public elections and a curriculum to prepare us for life.
Elen James, Corporate Lead Officer for Lifelong Learning and Culture said, "It's vitally important that young people are given a platform to raise their voice and opportunities to take part in the political process. The UK Youth Parliament is an opportunity for Westminster to hear young people raising the issues they care about most."
"We are very proud of Thomas and Huw as Ceredigion's new MYP and deputy MYP, and we wish them the best of luck for the forthcoming year at the preparation events, for Thomas in the big debate in the House of Commons and the campaigning process following the debate."
Gwion Bowen, Children and Young People's Participation Officer for Ceredigion Youth Service, said, "Every year, Ceredigion Youth Service work in partnership with Children in Wales to facilitate opportunities for young people from Ceredigion to have their say on various issues or topics that affect them."
"We really look forward to welcoming Thomas and Huw as our new MYP and deputy MYP, and we look forward to supporting them in their new roles. We're confident that Thomas and Huw are the ideal people for this role and we wish them all the best for the forthcoming year."
For more information or to find out what opportunities are available to you, head over to their Facebook, Instagram and Twitter pages at @GICeredigionYS or contact the team on youth@ceredigion.gov.uk.
16/04/2019