The Coliseum Coffee House, situated at Ceredigion Museum, will be celebrating St David's Day this year with a new menu featuring locally produced, traditional Welsh food.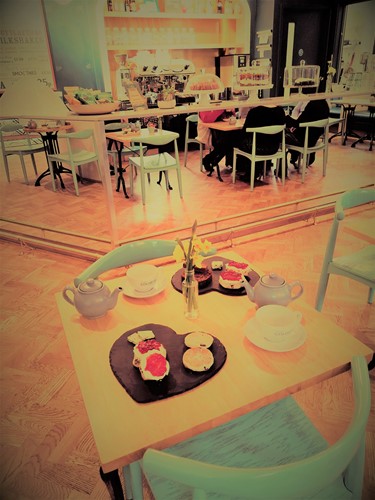 The café, now under new management by Ceredigion Museum, has created a revised menu, which ensures that a lot of the food and drink available is local, free-range and fair trade. Visitors to the café will now be able to have a 'paned' (cup of tea), together with a home-made Welsh cream tea, or try out something new from the transformed menu.
Carrie Canham, Curator for Ceredigion Museum said, "It's very exciting for us to have taken over the café as it's given us a chance to run it more in line with our commitment to being ethical and environmentally conscious, as well as reflecting the very best that Ceredigion has to offer in terms of food and drink. We're also supporting the staff to learn Welsh, so encourage locals to come and give them a chance to practice."
Councillor Catherine Hughes, Cabinet Member with responsibility for Culture said, "We are delighted to see both museum and café supporting the Council's focus on strengthening communities and the local economy. What better way to celebrate St David's day's than to visit the Coliseum Coffee House to sample some of their tasty home-made, traditional Welsh delights such as Cawl, Bara brith and Welsh cakes."
The café is accessible to all, with a lift from the ground level. The café welcomes community groups, mother/father and baby gatherings and more. It has a play corner dedicated to children, with a vintage-style kitchen café, ready for many a tea-party!
To keep up to date with the latest offers from The Coliseum Coffee House and to find out what's on at Ceredigion Museum, follow 'Amgueddfa Ceredigion Museum' on Facebook or visit their website: http://www.ceredigionmuseum.wales/.
14/02/2019