Blue Badge holders in Ceredigion are encouraged to renew their passes if they have expired during the lockdown period. Please be advised that renewal reminders letter are no longer issued.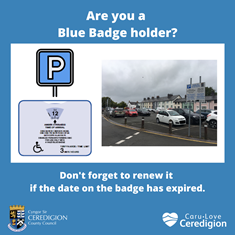 Following pressures on services at the beginning of the year due to the coronavirus outbreak, Local Authorities in Wales made an exemption not to issue parking Penalty Charge Notices (PCN) to people using Blue Badges with an expiry date of 1 January 2020 or after.
However, following a Welsh Government review, this blanket relaxation on charges has now come to an end and parking enforcement action will resume as normal.
Users with expired Blue Badges are advised to contact Ceredigion County Council to renew their passes. People can either renew their Blue Badges online by visiting our website or by calling 01545 900 333 to speak with Ceredigion's Blue Badge officers to arrange for an application form to be sent out. The processing team currently have no back-log of applications and will deal with the application within 4 weeks of receiving all required information.
Councillor Dafydd Edwards, Ceredigion County Council Cabinet Member for Highways and Environmental Services, Housing and Customer Contact, said: "The Blue Badge scheme is an excellent scheme. Unfortunately, from time to time, the badge needs to be renewed and it's important to do that in a timely manner so it is kept up to date. To renew or ask for a new badge, contact Ceredigion County Council's Contact Centre online or by phone."
The Blue Badge Scheme is an European arrangement of parking concessions for people who are disabled or who have severe walking difficulties or severe cognitive impairment, and is available to both drivers and passengers. To check your eligibility for a Blue Badge, visit Ceredigion County Council's website.
14/10/2020