Further active travel improvements in Aberystwyth have recently been completed after Ceredigion County Council secured additional Welsh Government capital grant funding of £249,000.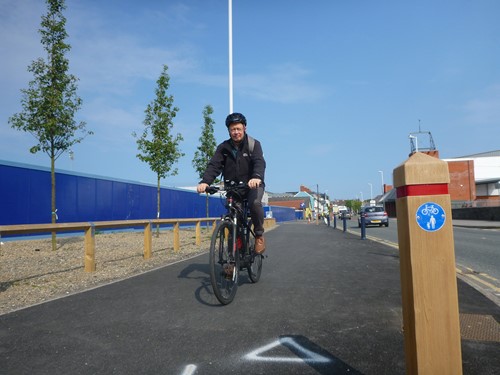 An improved shared use path has been created along Boulevard St Brieuc which now continues along the side of the Police Station and up Park Avenue to the junction of Glyndwr Road, which covers a distance of 650 meters. The pedestrian crossing on Boulevard St Brieuc has been upgraded to a new toucan crossing, the first of its kind in Ceredigion, allowing both cyclists and pedestrians to cross the road safely.

The funding has also enabled the provision of a new scooter shelter at Plascrug Community Primary School which has been welcomed by Head Teacher Menna Sweeney, who said, "This is a fantastic addition to our school because the shelter purchased just 16 months ago following grant funded works on the Avenue could not cope with current demand, due to the amount of children enjoying scooting and cycling to the school every day, which is great to see and is really helping to alleviate the traffic congestion problems previously experienced in the area".

Councillor Alun Williams, who's currently the Member Champion for Sustainability, expressed his delight with the improvements, "I'm very pleased that we've managed to obtain funding to bring in further improvements and facilities for pedestrians and cyclists. The work has complemented the new Parc Kronberg Skate Park and has improved the look of this important gateway into Aberystwyth with an increased number of trees planted, of the Ornamental Pear variety which are spread wider along Park Avenue. New surfacing has been laid, thereby removing a section of uneven pavement to improve comfort and safety to help encourage cycling and walking so that our residents can lead more active and healthy lives and make fewer car journeys. I'm grateful to the Highways Officers and the local contractors for the high quality of work on this scheme.''
Two new public cycle repair stands with integrated cycle pumps have also been installed in the town, one outside Plascrug Leisure Centre and the other near the main entrance to Aberystwyth University's Penglais Campus.
24/05/2018