Food Centre Wales, situated at Horeb Business Park, Llandysul, is opening its doors to the public on 26 June, from 10am-4pm. The Centre is a dedicated food technology centre offering advice, technical services and training to business start-ups, small to medium enterprises and existing food manufacturers.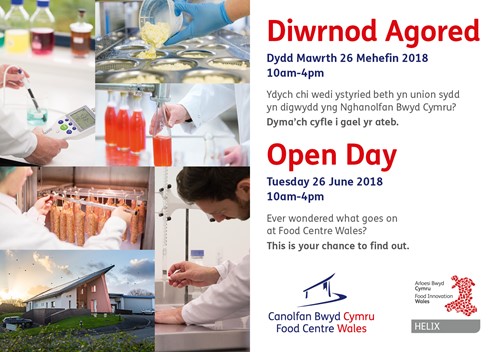 So, if you've ever wondered what goes on at Food Centre Wales, this is your chance to find out! There will be tours of the centre to give you an insight into the extensive facilities and equipment available to hire. Tours will start on the hour from 10am onwards, with the last tour starting at 3pm.
The Centre boasts a dedicated 'Innovation and Manufacturing Hub' with unrivalled facilities for food manufacturers to develop new products or reformulate existing ones to meet new customer requirements. The technical facility is designed to enable food producers to manufacture products on a small industrial scale in order to test trade or start manufacturing for an emerging or growing market. Expert Food Technologists assist the use of all processing areas and equipment, as well as offer advice and guidance throughout; they help food producers scale up recipes, train in the use of the equipment, and set up processing and food safety systems - all necessary for food manufacture.
Food Centre Wales plays a strategic role in the technical support of the Welsh Food Industry and was set up in 1996 by Ceredigion County Council as part of its Economic Development strategy. In 2001, funding from the National Assembly for Wales' Welsh Capital Challenge Scheme enabled the addition of the £1.7 million Research and Development building. The building has fully equipped process areas and manufacturing facilities available for commercial hire. The centre is also used as a 'launch pad' for new and innovative ideas in the Welsh Agri-Food Industry, working closely with the Welsh Government Food Directorate.
Councillor Rhodri Evans, Cabinet Member with responsibility for Economic and Regeneration said, "Ceredigion County Council are proud of the support and guidance that the Food Centre Wales can offer to local food producers and the innovative ideas that have arisen from the opportunities available at the centre. So, if you're thinking of starting your own food business or if you have a new idea you would like industry experts to help you develop, then the open day is the ideal opportunity for you to talk to the food technologists who'll be on hand to offer advice. The open day is also a great opportunity for the residents of Ceredigion to pop in and take a tour to find out more about the innovative facilities that are right on their doorstep at Food Centre Wales."
The open day will also be an opportunity for food businesses to find out more on how the Food Centre Wales can help with Food Safety training and the HELIX Knowledge Exchange Programme. To find out more information on the open day, visit the Food Centre Wales website or call 01559 362230.
13/06/2018