Staff and service users from Canolfan Padarn took part in this year's Race for Life which took place on Sunday, 13 May.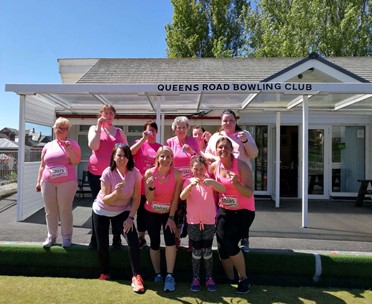 Service users Debbie, Lowri and Donna had been training for months as part of the centre's healthy lifestyle group and were joined by staff members Lina, Ellie-May, Heather, Jenny, Dawn and Anwen, along with Heather's daughter Cala, and Anwen's daughter Jena.
Canolfan Padarn Support Worker Ellie-May Watkins said, "The crowd gave the crew great support and we're grateful to everyone who cheered us on. We'd like to say a huge thank you to Queens Road Bowling Club for use of their facilities on the day. Previously, Canolfan Padarn raised £330 for Cancer research, we hope that we will match or exceed that in sponsorship this year."
Canolfan Padarn is a community resource base for adults with learning disabilities in Aberystwyth, offering social, leisure and work opportunities in the local area.
25/05/2018