Llanarth Primary School pupils will be hosting a show under the guidance of Theatr Felinfach's Creative Team at on 9 July.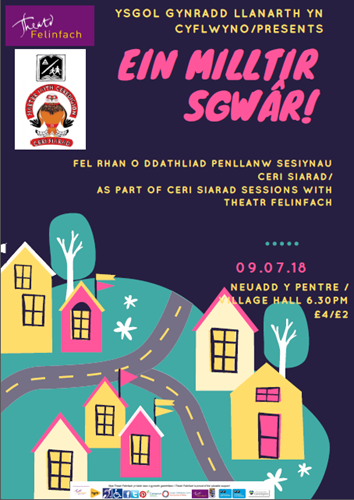 Theatr Felinfach have been collaborating with Llanarth Primary School to develop a hive of creative activity as part of the Ceredigion Schools Language Charter, 'Ceri Siarad'. The show is the culmination of weekly 'Ceri Siarad' sessions and is an opportunity to celebrate the history and culture of the Llanarth area.
Legend has it that there are no interesting stories in Llanarth and with a little magic and illusion a group of pupils are drawn in to a world full of mystery and history! Over 50 children between the ages of 4 and 11 years will be taking part in the production, 'Ein Milltir Sgwâr' (Our Square Mile).
To find out more, come and see the pupils performing in the Village Hall, Llanarth, on Monday evening, 9 July at 6:30pm. Tickets are available at the door and are £4 for adults and £2 for secondary school pupils. There will be a raffle on the evening and a warm welcome to all.
For more Information contact Llanarth Primary School or Theatr Felinfach on 01570 470697.
03/07/2018