Ceredigion residents will get the opportunity to learn more about how they can protect themselves against scams in an event to be held at the Bandstand, Aberystwyth on 27 September between 9:30am and 1:30pm.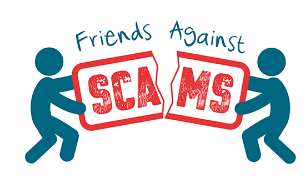 Ceredigion County Council have joined the National Trading Standards (NTS) Scams Team and Wales Against Scam Partnership (WASP) who will be touring Wales holding scam awareness events between 24 and 28 September.
Friends Against Scams is an NTS initiative that aims to protect and prevent people from becoming victims of scams by empowering communities to 'Take a Stand Against Scams'.
Councillor Gareth Lloyd, Cabinet Member with responsibility for Public Protection Services said, "Scams often target the most vulnerable people in society but the reality is that anyone can become a victim of scams. Scams damage lives and can affect people financially and emotionally so I'm proud that Ceredigion County Council has joined the work of the National Trading Standards Scams Team, Friends Against Scams and others who are working together to prevent people from being victims of scams. By signing up as an organisation we undertake to actively promote the Friends Against Scams initiative."
Each year scams cause between £5bn and £10bn worth of detriment to UK consumers. In addition to the financial impact, scams can have a severe emotional and psychological impact on victims.
Louise Baxter, Team Manager in the National Trading Standards Scams Team said: "The tactics used by scammers leave victims socially isolated and ashamed of telling their friends and families what's really going on behind closed doors. It is fantastic to have a great organisation to help us tackle this problem on a local, regional and national level and I would encourage all those that are interested in showing their support to join the campaign and be part of our growing Friends Against Scams network."
Call by at the Bandstand, Aberystwyth on 27 September between 9:30am and 1:30pm to learn more on how to protect yourself from scams. For more information about becoming a Friend Against Scams, visit www.friendsasagainstscams.org.uk
18/09/2018