The Cardigan Bay Fisheries Local Action Group (FLAG) is asking residents, groups and organisations based within fisheries communities to send in their ideas on developing the social, economic and environmental well-being of the Cardigan Bay coast and inland waters from St Dogmaels to Barmouth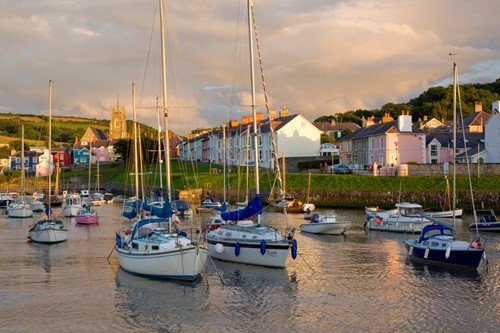 Cardigan Bay FLAG, which is administered by Ceredigion County Council can help make ideas become a reality through activities such as project development, evaluation, feasibility studies, facilitation, training, mentoring and pilot projects. Each project must fall under one of the five objectives within their local development strategy. These areas include:
Adding value, creating jobs, attracting young people and promoting innovation at all stages of the supply chain of fishery and aquaculture products
Promoting social well-being and cultural heritage in fisheries and aquaculture areas, including fisheries, aquaculture and maritime cultural heritage
Supporting diversification inside or outside commercial fisheries, lifelong learning and job creation in fisheries and aquaculture areas
Strengthening the role of fisheries communities in local development and the governance of local fisheries resources and maritime activities
Enhancing and capitalising on the environmental assets of the fisheries and aquaculture areas, including operations to mitigate climate change
The revenue support can also be provided for areas including Project Development, Pilot Projects, Feasibility Studies, Facilitation, Training, Mentoring and Consultation.
The Cardigan Bay FLAG's support work for fishery communities has already proven successful with events such as the Day on the Quay family events to celebrate the work of the fishermen and women at the heart of the industry.
Councillor Rhodri Evans is the Cabinet member responsible for Economy and Regeneration. He said, "The Cardigan Bay FLAG aims to assist coastal communities and the local fishing industry to improve the economic prosperity and quality of life in the area. With FLAG maintaining a strong vision going forward for Cardigan Bay, this is the perfect opportunity for people to come forward with ideas they may have to build successful, sustainable, economically viable local fishing and associated industries to meet current and future challenges."
This project has received funding through the European Maritime and Fisheries Fund, which is funded by the European Union and the Welsh Government.
Further information about FLAG can be found by clicking on this link: https://www.ceredigion.gov.uk/business/cardigan-bay-fisheries-local-action-group-flag/
To discuss your ideas and for information regarding eligibility of support, contact Alison Kinsey the Cardigan Bay FLAG Coordinator by emailing alison.kinsey@ceredigion.gov.uk  or phoning 01545 574162.
23/09/2019