With two stunning rooms to hold your ceremony in, a fully licensed bar and a choice of wedding breakfast options; Ceredigion Museum is the perfect venue for your special day. From this day forward, Ceredigion Museum is an official licensed venue for weddings and is ready to welcome couples looking for a romantic atmosphere in an unusual setting.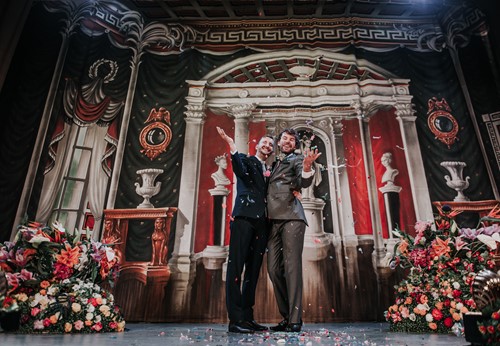 Set in a Grade II listed Edwardian theatre, the museum resonates with the glamour and flamboyance of its past. Gilt balconies and plush red décor are the perfect backdrop to creating an extraordinary day, whether that be a traditional, quirky or even off the wall ceremony.
Carrie Canham, Ceredigion Museum Curator said, "Ceredigion Museum is a very romantic place, we often get older couples coming in and telling us about their courting days here when it was still a cinema; there were double seats at the back of the auditorium where I'm not sure much attention was given to the films on show! We're very excited by the prospect of future visitors being able to come in and share their wedding memories with us."
In 2017, the museum was refurbished to include catering, a licensed bar and audio-visual facilities, so it is available for a range of wedding options from just the ceremony to a fully catered event and celebration for up to 100 guests. There is also a smaller gallery available, with views of the sea, for more intimate ceremonies. The museum is within a couple of minutes' walk to the prom, where, weather permitting, couples can have some wedding photos taken with their guests.
Councillor Catherine Hughes, Cabinet Member with responsibility for Culture said, "Ceredigion Museum is such a terrific setting, perfect for making cherished memories of your big day. There's a lot of flexibility with the wedding packages available and friendly helpful staff on hand to make sure you have your own truly unique wedding day. You will be able to share your special day with friends and family in a beautiful setting, rich in Ceredigion's history."
First opened in 1905 as a theatre, the Coliseum has hosted more than five thousand events including Edwardian music hall, plays, early films, political meetings and concerts. After converting to a cinema in 1932, 3800 film programmes have been watched by Ceredigion residents. Today, the museum's three floors house collections of art and objects from the county's cultural heritage.
For more information about weddings at Ceredigion Museum visit the website at www.ceredigionmuseum.wales/discover/weddings
15/03/2019