If you're aged between 9 and 25, and are looking for ways to get to places or to improve your health and well-being, then maybe you could benefit from a free re-cycled bicycle courtesy of the young people's Inspire Project.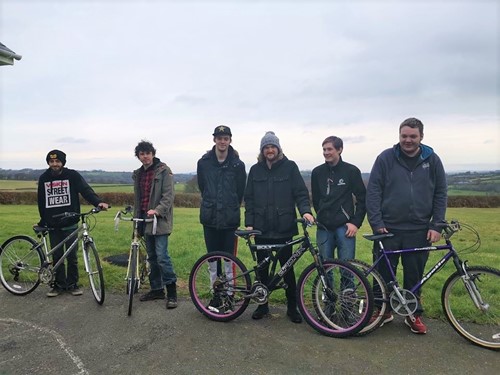 Inspire, which is a Ceredigion Youth Service funded project that provides weekly support for young people aged 16-24 focusing on improving health and well-being, have now commenced a new 'On your bike' project. A group of young people from all over Ceredigion voluntarily get together in weekly community-based activities supported by Youth Workers, where they do activities such as street-cleans, afternoon teas at residential care homes and fundraising events for local charities. This most recent project, has developed from a CAVO Youth Led Grant Application, where the group identified an opportunity to give something back to their community.
One of the young people who attends the project said, "We came up with the idea because we know that many children don't own their own bike, they struggle to get places and they also don't get enough exercise. So as a group, we wanted to do something where we could all learn new skills like fixing and recycling bikes and giving it to young people who need them. We've had training from a bike expert and we've almost fixed 3 bikes which will be ready to give out to people who need it following health and safety checks. I'm really proud to be a part of the project as it's for a good cause and I've gained so much confidence from being involved."
Councillor Catrin Miles is the Cabinet member responsible for Learning Services, Lifelong Learning and Leisure. She said: "I have been fortunate enough to spend time with the Inspire group over the last year and they've been involved in some fantastic activities that help their communities and this is another example of their dedication and positivity to selflessly help people. The 'On your bike' project will open up a lot of opportunities for young people as well as provide support for the group to develop their skills and broaden their own horizons. I'd like to thank them and the Youth Workers who provide such an important service in supporting and empowering young people to be the best that they can be."
If you would benefit from a recycled bike, or if you have an old bike which could be donated to the project, please contact Ceredigion Youth Service via their social media pages @GICeredigionYS or get in touch by calling 01545572352 or e-mailing youth@ceredigion.gov.uk.
24/02/2020