Visitors from Yosano Town, Japan were welcomed to Food Centre Wales on Wednesday, 07 November 2018.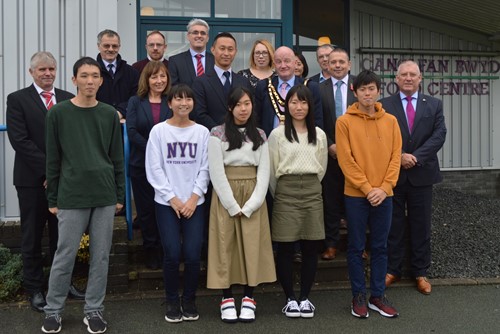 Led by the Mayor of Yosano Town, Toma Yamazoe, the group were visiting Ceredigion as part of a cultural exchange visit.
Councillor Rhodri Evans, Ceredigion County Council Cabinet Member for the Economy and Regeneration, who welcomed the delegation to Food Centre Wales, said, "We were delighted to welcome our visitors from Yosano, to Food Centre Wales. During sharing information, it was clear that Japan's growing interest in the food industry could represent an opportunity, particularly for cheese and beer manufacturers that are clients of Food Centre Wales."
Mr Yamazoe was joined by five students and two officials from Yosano Town Council. The group were particularly interested in learning how Food Centre Wales supports new food businesses to grow. Mr Yamazoe and his officials were looking at ideas of how they may be able to support small scale rice and silk producers, who form the backbone of the rural economy in their area of Japan.
Councillor Evans continued, "Creating international links such as these will be increasingly important for the food industry in Ceredigion".
08/11/2018