Donna Pritchard has been appointed as Ceredigion County Council's Corporate Lead Officer for Porth Ceredigion. Porth Ceredigion is a new social care service which focuses on helping people at an early stage to stop problems from becoming more serious.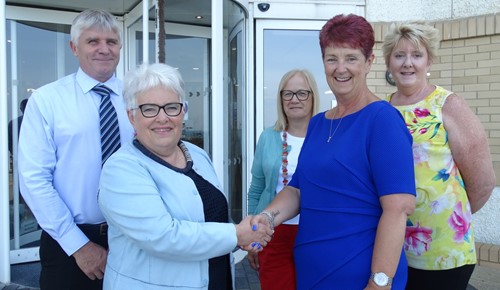 Porth Ceredigion will offer services that work with people's strengths. The service will respond in a timely and creative manner which will focus on what is important to the individual.
Eifion Evans is Ceredigion County Council's Chief Executive. He said, "Donna is a high quality appointment. Porth Ceredigion is a new way of working which gives people the right help at the right time. This means we stop smaller problems from growing into more serious ones. To achieve this, we needed a capable and experienced person with a clear vision for the service. Donna is that person."
Councillor Ellen ap Gwynn is the Leader of Ceredigion County Council. She said, "I am delighted that we have been able to appoint someone of Donna's calibre. She was a very strong candidate and has the experience we need to draw on to make Porth Ceredigion a success."
During her career, Donna has worked for the council and Hywel Dda University Health Board. Most recently, she has worked as the council's Service Manager for Mental Health, Adult Safeguarding, Substance Misuse and Mental Capacity Act Services. She has been a registered nurse for 37 years and has worked in management positions for 23 years.
Donna Pritchard said, "I am honoured and excited to be part of a corporate team who will lead Ceredigion County Council in implementing innovative and transformational services for the future. I am passionate about delivering quality services that keeps the person at the heart of what we do."
She has worked in Health and Social Care in both clinical and managerial roles. She has a wealth of experience across specialist areas including dementia care, adult mental health, learning disability, substance misuse services and adult safeguarding services.

Donna was appointed in a council meeting on 1 August after councillors voted to support her appointment.
08/08/2019