Proprietors of three takeaways in Aberystwyth town centre have been warned that their businesses may face closure if they fail to take reasonable measures to provide or require the use of personal protective equipment and face coverings by persons working on their premises.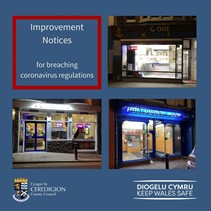 Premises Improvement Notices have been served on the persons responsible for G-One on North Parade, and Penguin Pizza and Hollywood Pizza on Pier Street in Aberystwyth. The improvement notices require the businesses to 'provide or require the use of personal protective equipment and face coverings by persons working on the premises' and warn that failure to comply with the notices can result in a premises closure notice being issued. The premises were issued with the notices following coordinated inspections by Dyfed-Powys Police and the Public Protection Team at Ceredigion County Council over the weekend.
The action follows a Council press release last week warning premises of the need to ensure that staff comply with the face-covering requirement, and similar enforcement action against two food premises in Cardigan on 18 November 2020.
The premises improvement notices were issued under the Health Protection (Coronavirus Restrictions) (No. 4) (Wales) Regulations 2020 at the weekend. The notices may be seen on the Council's website under Improvement and Closure Notices.
Businesses should ensure that they are aware of the requirements under the Regulations for individuals to wear face coverings in indoor public areas, and also for regulated premises to take all reasonable measures to prevent the spread of coronavirus, such as providing and requiring the use of face coverings. Whilst face shields do offer some protection for the user against transmission of coronavirus, they are not considered to be 'face coverings' as they merely shield rather than actually cover the mouth and nose.
The Public Protection Team will continue to carry out unannounced inspections of premises and the non-compliant businesses may be issued with premises improvement or closure notices.
Information for businesses is available on the Council's website: Supporting Ceredigion's Economy. 
Any business who is unsure of their responsibilities in relation to face coverings is urged to check the Welsh Government website.
Any business that requires further information or guidance can contact the Council's Public Protection Team on 01545 570881 or clic@ceredigion.gov.uk.
30/11/2020