Ceredigion County Council's Carers Unit is the first council in Wales to be awarded with a Gold level under the Investors in Carers (liC) scheme. IiC is a quality assurance scheme that ensures that organisations and services are identifying and supporting unpaid Carers.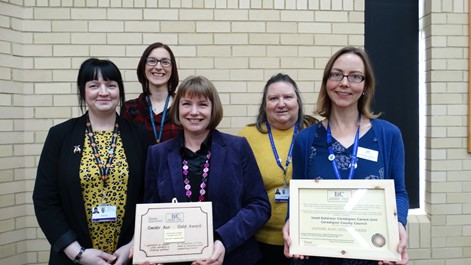 The scheme covers Carers of all ages and situations. They include Carers under the age of 18, young adult Carers from 18 – 25, parent Carers who care for a child with a disability or mental health issue, sibling Carers and older people caring for each other.
To be awarded with a Gold level the Carers Unit have demonstrated an advanced understanding of Carers issues, an extremely high level of service delivery to Carers, how they have supported cultural change through working with and supporting council teams to be more Carer aware and they had to demonstrate clear evidence of results.
Heather West is Ceredigion County Council's Carers Development Officer. She said: "We are really delighted, and I am very proud of the team! The panel were particularly impressed with the range of work undertaken, working across all parts of the council, and the evident corporate commitment to embedding Carers as a priority across all areas. One of the Panel members said the panel were really tough to achieve gold, the highest award."
Ellen ap Gwynn is the Leader of Ceredigion County Council. She said: "To have been awarded with a Gold level in the Investors in Carers quality assurance scheme is a fantastic achievement for the Carers Unit. We are very pleased that our Carers Unit have received recognition for their excellent work in supporting Carers and their families in Ceredigion. All staff are commended for their hard work."
Carers provide unpaid care by looking after a family member, friend or partner who is ill, frail, disabled or struggling with mental health, drugs, or alcohol. Three out of five of us will be a Carer at some time in our lives. Helping a loved one get the most out of life can be incredibly rewarding, but it can also be very tough. Getting the right advice for Carers at whatever stage of the caring role can make a huge difference to their health and the health of those they are looking after.
For more information about the Investors in Carers scheme visit: www.hywelddahb.wales.nhs.uk/carers or for useful advice for Carers, visit: www.ceredigion.gov.uk/carers.
17/01/2020