Armed Forces Week is on between 22 and 27 June this year.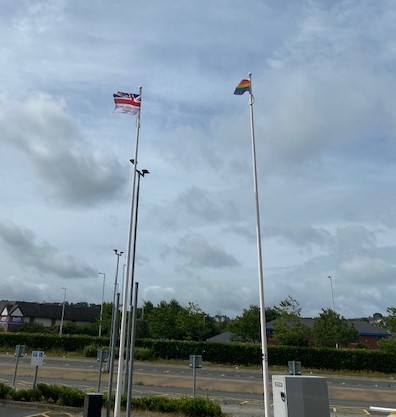 Ceredigion County Council will be showing their support by raising the Armed Forces Flag outside council offices. During the week, a focus on different aspects of the Armed Forces will feature on the Council's social media pages. This will offer the residents the chance to discover more about the Armed Forces community in Ceredigion.
Councillor Paul Hinge is Ceredigion County Council's Armed Forces Champion. He said: "During these unprecedented times it is poignant to note how young people, volunteers and reservists in our county unselfishly help others. We have all watched the uniformed services help our own blue light services on the television over these last 13 weeks. I would like to pay my tribute to any member of the services living or from our county who have been deployed to help during this pandemic to date. I would like to highlight in particular the detachment of 3rd Royal Welsh from Aberystwyth who were mobilised at the very start of our lockdown to help deliver and distribute much needed PPE, as the weeks wore on, they were then tasked to decontaminate Ambulances and then finally some were deployed to drive Ambulances. These young soldiers readily came to the call in our time of need some even putting their University studies on hold to help, when help was needed. They are a credit to their Regiment, to the county and to their families and most especially to themselves."
"So in this unprecedented time and as Ceredigion's Armed Forces Champion, I ask you in this Armed Forces week to take a little time out to reflect on the good works our uniformed forces carry out for civil society. Thank you for reading this short but truly meaningful tribute to their work on our behalf."
"Our Armed Forces Liaison Officer, Hayley Edwards has put together a plan to raise awareness of the Armed Forces community with the public," Councillor Hinge continued, "including a focus on the work of Penparcau Community Forum on Thursday, 25 June which is Veteran's day."
During the week various messages will be posted on the council's Facebook and Twitter pages including, a video message from Colonel Martin Green TD DL (Territorial Decoration, Deputy Lieutenant) a serving reservist, who has been mobilized as a Military Liaison Officer to Hywel Dda Health Board during the Coronavirus situation, and also an account from Hayley Edwards on her role as a reserve.
Hayley Edwards, Regional Armed Forces Covenant Liaison Officer for Ceredigion, Carmarthenshire and Pembrokeshire said: "I pay tribute to the work that the voluntary organisations who work in partnership with the County Council, in providing essential services to our veterans and armed forces community, especially during the COVID-19 pandemic. The work of Penparcau Veterans Hub has been a lifeline for our socially isolated older Veterans, who have been unable to leave their houses. Volunteers from within the Armed Forces Community, have pulled together to deliver essential services to the more aged veterans. Many other Armed Forces Community Charities, like SSAFA, Change Step, Age Cymru Ceredigion and the Royal British Legion have continued to provide vital services to our AF Community during the COVID 19 Pandemic. It's been a shining example of team work in these challenging times."
22/06/2020