On Wednesday 12 June, Ceredigion Youth Service (CYS) was given acknowledgement by representatives from Ceredigion County Council for the creativity of a large graffiti mural along the river Teifi in Cardigan, created by CYS, along with 17 young people aged between 11-25 and graffiti artist, Lloyd the Graffiti.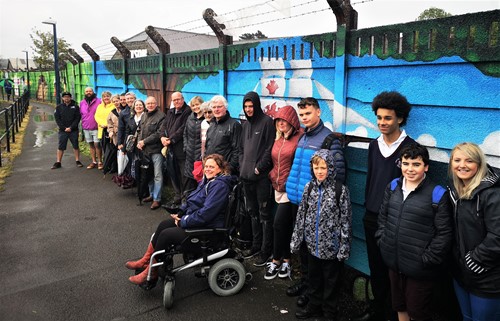 Working in partnership with Cardigan Town Council and Jewsons, the young people from Ysgol Aberteifi, Ceredigion Youth Service's Inspire programme and Area 43 were given the opportunity to work with professional graffiti artist Lloyd the Graffiti.
Gavin Witte is a Youth Worker for Ceredigion Youth Service and helped carry out the project. He said, "This has been a great opportunity for the young people of Cardigan. They have brought their own ideas and enthusiasm along to produce a piece of art that they and the community can be proud of for years to come."
A total of 80 litres of emulsion, 112 cans of spray paint were used to create the eye-catching mural representing some local wildlife as well as commemorating the Bi-Centenary Albion Voyage that departed from the Teifi Valley to Canada in 1819.
Councillor Catrin Miles is the Cabinet member responsible for Learning Services. She said, "On behalf of the Council I'd like to congratulate Ceredigion Youth Service, the young people and everyone who was involved in creating this cheery and colourful masterpiece – not only does it celebrate the local wildlife but also marks an important piece of Cardigan heritage. It has completely transformed a very visible area of the Teifi riverside and is already attracting enthusiastic and appreciative comments from local residents and the visitors that come to the Cardigan area from far and wide."
Cardigan Youth Club runs every Wednesday, between 3:30 and 6pm. For more information about the work of Ceredigion Youth Service, visit their Facebook, Twitter or Instagram page @GICeredigionYS or visit their website www.giceredigionys.co.uk.
17/06/2019