This year, Carers Rights Day is held on Thursday 21 November 2019.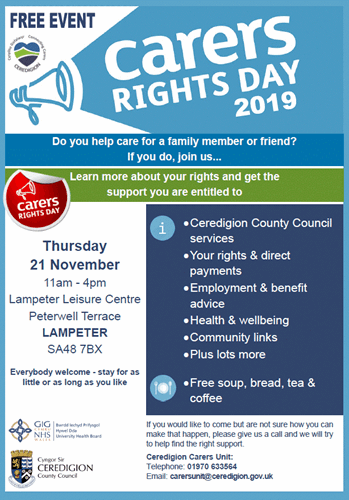 The aim of Carers Rights Day is to empower Carers to work towards finding a balance between their life outside of caring and their continued caring role, and ensuring Carers know their rights.
Ceredigion County Council's Carers Unit and partners would like to invite you to a free event on Thursday 21 November 2019 at Lampeter Leisure Centre, Peterwell Terrace, Lampeter SA48 7BX.
The Carers unit are offering a wide range of information and you will have the opportunity to speak to professionals on a one-to-one basis and to socialise with other Carers over a cup of tea and cake.
Carers provide unpaid care by looking after a family member, friend or partner who is ill, frail, disabled or struggling with eating disorders, mental health, drugs, alcohol, or other addictions. Each day 6,000 people start caring; it can happen suddenly for numerous reasons such as a birth, illness or an accident. Caring duties can also happen gradually.
Catherine Moyle, Carers Support Officer, Ceredigion County Council Carers Unit said: "Getting the right advice as soon as you start caring can make a huge difference. Even if you've been caring for decades, it is vital that carers make sure they are getting all the support they are entitled to."
The event will begin at 11am and finish at 4pm. A warm welcome is extended to Carers and those that you care for. Tea and coffee will be provided along with a lunch of soup and bread.
For more information, or if you would like to come but are not sure how you can make that happen, please contact Ceredigion Carers Unit and we will try to help find the right support. The Carers Unit can be contacted by telephone on 01970 633564 or by e-mail carersunit@ceredigion.gov.uk.
04/11/2019