Trudy Jones and Rhian Evans, members of the Ceredigion Tourism Service Team, share an insight into their roles as Information Assistants at the Tourist Information Centre (TIC) in Aberaeron.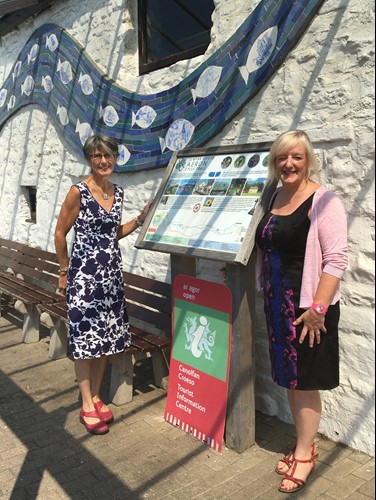 Trudy: "I was working in a school kitchen and decided I wanted a change in my career path. A friend gave me the idea of finding out whether there were any jobs going at Ceredigion's TICs. I hadn't studied tourism but really enjoyed meeting people and was excited at the prospect of trying to sell Ceredigion.
I've always been really comfortable in people's company and enjoy being part of a team. There's so much variety in my role and every day is different. I have job satisfaction knowing that I've been able to promote Ceredigion and provided visitors with the information they need, so that they leave the centre feeling welcomed, well-informed and with a smile on their faces. It's a great feeling when you have visitors come back to the area time and time again. They come in to see us at the centre to thank us for recommending a must-see location or a tasty place to grab a bite to eat.
Patience, listening and recognising our visitor's requirements is an important part of our work and at the end of the day 'going the extra mile'!"
Rhian: "Having previously worked in the leisure centre industry as a swimming teacher and lifeguard, I decided to study for a BTEC National Diploma in Leisure and Tourism Studies at Coleg Ceredigion. The course opened my eyes to the tourism industry and its importance to us in Ceredigion. When I saw my current job being advertised, I thought I could do that job and I would enjoy it. I went for it and I'm so glad I did as it's the perfect job for me.
Like Trudy, I'm a real people person and am passionate about our beautiful county so I take real pleasure in talking to visitors about all the wonderful places to visit throughout Ceredigion. I'm told that I could talk for Wales; my friend often tells me that I could walk out of an empty room having made a new friend! It pays off to be talkative in this role though and there's nothing more satisfying than receiving positive and enthusiastic feedback from visitors."
Trudy: "Our day begins with administrative duties including responding to emails and answerphone messages received overnight. Then, it's a case of ensuring that the centre is clean, tidy and welcoming to all. We always make sure that leaflets and saleable items are displayed correctly - there's nothing worse than an untidy display!
Once the doors are open, both visitors and locals come in with enquiries about all kinds of things: Blue Flag beaches, family walks, bus and train information, places to eat and drink, electric car charging points, where can they take their dogs, where can they go to hear a male voice choir - the list is endless.
Visitors are always keen to explore the area and we always make sure that they find plenty to do without leaving Ceredigion - whatever the weather! Throughout the year, we see a lot of walkers keen to take on the Ceredigion Coast Path Challenge and believe it or not we are even expected to know what time the dolphins make an appearance!
The TIC acts as a ticket agent for Aberystwyth Arts Centre and we also sell tickets for one-off events held locally. By the way, we are always happy to display posters for local events so pop by if you need help in promoting any upcoming events.
From time to time we even help with finding lost dogs and I can't begin to tell you how much lost property we've had handed in over the years: phones, cameras, wallets and handbags are all brought in with the aim of being reconnected with their rightful owners."
Rhian: "Throughout the day, we deal with telephone and email enquiries and of course the enquiries from visitors who call at the TIC. We meet and greet visitors from all over the world, welcoming them to Aberaeron and Ceredigion - already this year we've noticed an increase in German, Dutch and American visitors.
Quite often we are the first people visitors meet when they arrive in Ceredigion and, as they say, 'the first impression counts'. We try to help with as many of their enquiries as we can but every now and again we have to contact colleagues in other services to make sure that their needs are met.
We help visitors find accommodation in Ceredigion and as we offer a bed booking service, we keep in touch with local accommodation providers - B&Bs, hotels, self-catering cottages and holiday parks - to find out who has last minute vacancies and to check on their rates. We liaise with Visit Wales regarding the quality grading status of accommodation in the area. This is a nationwide quality assessment scheme which takes into account the accommodation's facilities and the overall quality of the visitor experience. Visitors can then be assured that any accommodation booked through the TIC has been quality graded.
In addition to the guidebooks and maps you'd expect a TIC to sell, we also sell a range of beautiful locally produced art and crafts. By now, some 45 local artists sell their products at Ceredigion's TICs. At Aberaeron TIC we have art exhibitions which showcase a different artist each month. As the new art and craft items arrive we get to know the artists and we make sure that we are well briefed regarding their work. We've even arranged for a painting to be shipped overseas for a customer."
It's safe to say that no two days are the same for a TIC Assistant!
Aberaeron Tourist Information Centre is open Monday to Saturday from 10am - 4pm (Open Bank Holiday weekends and Sundays from July to the end of August. Closed on Thursdays in winter).
For more information, email AberaeronTIC@Ceredigion.wales or phone 01545 570602. Discover more about Ceredigion on the website www.discoverceredigion.wales.
02/08/2018