The Budget for Ceredigion County Council has been approved in a Council meeting held on Thursday, 02 March 2023.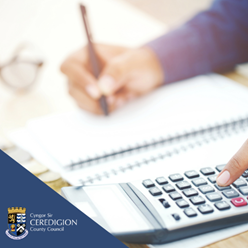 The Budget for 2023-2024 has been set at £180.1m. Like all Local Authorities in Wales, Ceredigion County Council is facing significant and unprecedented financial pressures, with a £12m shortfall between the additional funding provided by Welsh Government and the £22m of cost pressures required to continue to provide a wide and diverse range of services.
As a result it has been approved that the County Council element of the Council Tax will increase by 7.3%. For a typical Band D property, this will mean an extra £8.81 a month or £2.03 a week. Of the total increase, 6.0% relates to core Council services and 1.3% is to fund an increase in the Mid & West Wales Fire Authority levy.
Councillor Bryan Davies, Leader of Ceredigion County Council, said: "The cost pressures we face are generally not unique to Ceredigion and reflect the current economic climate. The Budget has been set for 2023-2024 with the aim of protecting services and avoiding cuts as much as possible and the Council Tax increase has been kept well below the current rate of inflation in recognition of the challenges that everyone is facing with the cost of living. We have already made significant savings over recent years, and we will continue to look at ways of doing things differently. Our priority will always be on delivering high quality services for people in Ceredigion and ensuring that they meet external regulator satisfaction."
In addition to approving the Budget, the Council also at the same meeting approved the overall levels of Council Tax for 2023-2024 for each Ward and each Council Tax Band, which includes the precepts set by local Town & Community Councils and Dyfed Powys Police. The average overall Council Tax increase is 7.4% once these precepts are included.
Remember that support is available through our Housing Benefit and Council Tax Reduction Scheme. Find out more information and if you are eligible here: Housing Benefit and Council Tax Reduction  
You can also call Clic Customer Services on 01545 570881 or e-mail clic@ceredigion.gov.uk for help and advice.
02/03/2023