On Tuesday 02 August 2022 in the Ceredigion County Council Tent on the Eisteddfod field we will remember the Librarian Alun R. Edwards.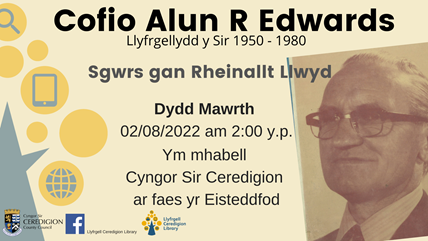 Alun R.Edwards was raised in Llanio, near Tregaron, Ceredigion and he worked at the National Library of Wales when he was young.
He was first appointed librarian for Cardiganshire in January 1950. Over the next quarter century, he revolutionised Ceredigion's library services and indeed the book industry in Wales as a whole.
Among his visions that were realised were the expansion of travelling library services, the College of Librarianship in Aberystwyth, the counties' book purchasing scheme, the Welsh Book Council and the establishment of reading and discussion groups.
Following the re-organisation of local government, he was appointed Librarian of Dyfed in 1950. He worked as the County Librarian for 30 years until he retired in 1980.
The building where the Aberystwyth Town Library is located on Queen's Square, Aberystwyth was named the Alun R. Edwards Centre in memory and respect for Alun's ground-breaking work.
Come and join Rheinallt Llwyd at two o'clock on Tuesday 02 August to remember the late Alun R. Edwards.
25/07/2022