The Cynnal y Cardi Local Action Group (LAG) is pleased to announce the approval of the first applications as part of the LEADER Grant Fund to support small scale LEADER activity in Ceredigion.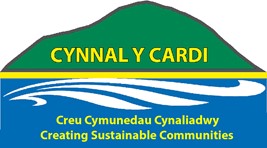 In its first few months of being open the LAG has supported local community events trialling new approaches to encourage past visitors back to events, whilst creating opportunities for attracting new visitors and supporting organisations to invest in technology to facilitate hybrid meetings allowing individuals to re-connect in community activity.
Emmanuel Kincaid from Llanddewi Brefi Community Council highlighted this: "The Cynnal Llanddewi Brefi project aims to regenerate community activity. As Sole trustee for the Village Hall Charity, Llanddewi Brefi Community Council held meetings with Hall users to try and identify solutions to the challenges they faced following disruption and restrictions during the COVID pandemic, and explore ways to support a return to group activities.
An interactive whiteboard display system, together with video conferencing camera/microphone/speaker system funded by Cynnal y Cardi will provide a standalone touchscreen computing/hybrid meeting facility, and will allow users to connect their own devices to share and access content. 
Weekly youth sessions will be led by volunteers, open to anyone aged 11-19 and including free access to pool/table tennis/snooker and WiFi, tea/coffee facilities. The interactive Smart board will be available to provide music and streaming or computing services."
The LAG will also be working with Aberystwyth University and the National Eisteddfod of Wales to support collaborative working with communities across Ceredigion to create, celebrate, learn and share ideas in an inclusive environment. It will be an opportunity to recognise and celebrate the local community of Ceredigion's connection with the University and the Eisteddfod as well as nurturing new collaborations for the future.
Councillor Clive Davies, Cabinet Member with responsibility for the Economy and Regeneration, said: "This new grant scheme has provided an opportunity for us to support local organisations aiming to restore a sense of community, local pride and belonging by re-engaging community members in community activity. As we tackle the challenges of the last two years let's build on the opportunities following COVID-19. I urge you to take full advantage of this opportunity."
If you have any ideas you can discuss them with the team. Submissions are welcome in Welsh or English. Contact the team by email at cynnalycardi@ceredigion.gov.uk or visit www.cynnalycardi.org.uk for more information.
The Cynnal y Cardi LEADER Grant Fund, which is administered by Ceredigion County Council, is supported through the Welsh Government Rural Communities – Rural Development Programme 2014-2020, which is funded by the European Agricultural Fund for Rural Development and the Welsh Government.
22/06/2022