There is great celebration at Ysgol Gynradd Dyffryn Cledlyn as they achieve the Gold Standard of the Welsh Language Charter.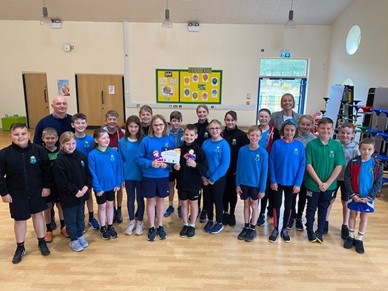 Dyffryn Cledlyn is the second school in Ceredigion to achieve this standard. Excellent work was seen and strong evidence that the Welsh language is alive within the School community.
Anwen Eleri, Welsh in Education Support Officer, said: "It was a pleasure to see the pupils taking ownership of the Charter work in the school; their enthusiasm was infectious. It was a privilege to listen to the pupils' presentations and see the fruits of their labour and the success of their projects. Getting to join in with the ukulele club while visiting was also pinnacle."
The work is led by Mari and Ethan the Dreigiau Cymraeg (Welsh Dragons) and the School Council.
Mr Hywel Roderick, teacher and charter co-ordinator, who supported the crew, added: "We are over the moon! The crew are very hardworking and eager and take their role seriously. The Welsh Language Charter is in place throughout the School and all staff and pupils are part of this success – we are proud of this excellent co-operation."
The Welsh Language Charter is in place in all the county's primary schools and is also developing in the secondary sector. Everyone is on the journey and there is some great work taking place across the County.
Congratulations to you all at Ysgol Gynradd Dyffryn Cledlyn.
12/05/2022