On Welsh language Rights Day, 07 December, the Welsh Language Commissioner is urging public organisations across Wales to come together in a national campaign to raise awareness of people's rights to use the Welsh language.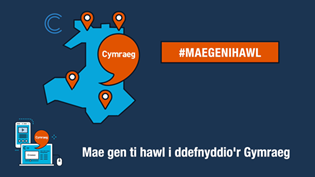 Welsh speakers are entitled to Welsh language services without having to request them. These rights have been created by the Welsh language standards, and there are now more than 124 public organisations implementing these standards across Wales from county councils to health boards, emergency services, colleges and universities, together with other national institutions in Wales.
Ceredigion County Council through implementing Welsh Language Standards, has set about to design its services in Welsh; and is eager to let Ceredigion residents know that a quality Welsh language service is available to them. The Welsh Language Standards have also led to the establishment of rights for workers to use Welsh in the workplace, significantly increasing the opportunities to use the language in everyday life. 
On Welsh language rights day, the Council wishes to highlight the rights people have to use Welsh when communicating with the Council. It is an opportunity to promote our Welsh language services, and to encourage Welsh speakers to use those services available to them. When contacting the Council, you are entitled to the following:
Documents in Welsh
Forms in Welsh
Welsh websites
Social media posts in Welsh
Signs in Welsh
Apply for a job in Welsh
Self-service machines in Welsh
Use Welsh in reception areas
Letters and e-mails in Welsh
Use Welsh on the phone
Councillor Catrin M.S. Davies, Cabinet Member with responsibility for the Welsh language said: "The Welsh language belongs to us all, it is part of what defines us as a nation, fluent speakers, learners or those who are shy in their Welsh. We have bilingual, friendly and very patient employees, so make sure you make use of the language by contacting us in Welsh, whether by phone, e-mail or social media. This is an ideal opportunity to practice and strengthen your Welsh."
As part of raising awareness, the Council has put together a video of the rights you have when communicating with the Council. Watch the video: https://youtu.be/vbLIpz6n1_Q
Support the Welsh language rights day campaign on social media by following #MaeGenTiHawl or by visiting www.welshlanguagecommissioner.wales/
If you are having any difficulties accessing Welsh language services, contact cymraeg@ceredigion.gov.uk
01/12/2022