On Thursday 11 July, Ysgol Henry Richard in Tregaron was officially opened by Mark Drakeford AM, First Minister of Wales.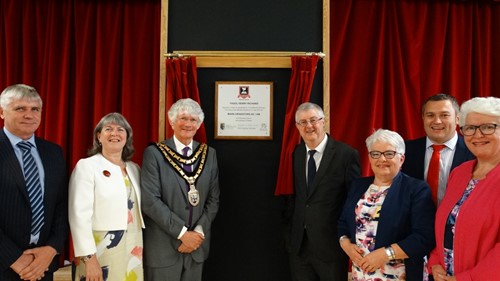 During the opening, Dorian Pugh, Headmaster of Ysgol Henry Richard said, "We have been on an exciting journey in recent years and today we are celebrating solidarity. Today is a milestone for this school. With the new facilities, I am confident that our pupils receive valuable, up-to-date experiences and opportunities. On the teaching route from the smallest, at age three, to the oldest at age sixteen, they are co-working, co-travelling and co-succeeding, now at one campus, in one family. Today our motto was realised, 'Mewn Llafur mae Elw' (In labour there is profit) and we stick to the words here now going forward.
"I would like to thank the Welsh government and Ceredigion County Council for the investment in securing a bright future for education in this community. I am today a very proud head of the unique, special school here, Ysgol Henry Richard. One school, one site and one vision."
Following the completion of a new building to accommodate 120 pupils of primary school age and 30 nursery places on the existing secondary school site, Ysgol Henry Richard now provides education for pupils from 3 to 16 years old on one location.
The 3-16 school first opened its doors to pupils on 1 October 2018 having previously occupied multiple sites including the former Tregaron and Llanddewi Brefi Primary Schools.
Councillor Catrin Miles, Cabinet member for Learning Services and Lifelong Learning said, "Ysgol Henry Richard is Ceredigion's third 'through-age school' following Ysgol Bro Pedr and Ysgol Bro Teifi and we have increasing evidence of the benefits of co-location of primary and secondary provision. Locating the new primary school facility on the secondary school site has resulted in Ysgol Henry Richard having the ability to share facilities such as the dining hall, gymnasium, technology suite, main hall and science classrooms. Teaching resources can also be deployed across phases allowing subject specialisms and teaching pedagogy to be used flexibly to for pupils of all ages."
The £5m project also included a full external and internal refurbishment of the gymnasium and external refurbishment and internal decoration of the Humanities teaching wing on the secondary site. The overall programme of work was completed by WRW within the original contract period and budget.
Councillor Miles continued, "The Ysgol Henry Richard project was funded equally by Ceredigion County Council and Welsh Government's 21st Century Schools Fund. We are grateful to the contractors, local authority officers and the school for their work in enabling this complex project whilst maintaining secondary provision on the site throughout. The school is now well placed to provide excellent educational provision and opportunities in Tregaron and the surrounding area for many years to come."
Mark Drakeford AM, First Minister said, "The remodelling of Ysgol Henry Richard is the final project in Ceredigion's school programme, receiving £2.5 million from the first wave of funding of the Welsh Government's 21st Century Schools and Colleges Programme. The most important thing about our Programme is that it has been co-designed, co-governed and co-delivered with local authorities and colleges throughout Wales. This means that these projects have been delivered strategically to meet local demand. Here in Ceredigion that has certainly been achieved by adopting school settings for nursery through to secondary age children, of which Ysgol Henry Richard is one. What an innovative way to provide continuity and familiarity for pupils, while delivering education in a sustainable way in a rural county."
15/07/2019