What is the mapping system?
It can be regarded as the computer-based equivalent of a map but an important difference is that it's interactive allowing users to move around the maps and query certain layers of mapped information presented. Within Ceredigion County Council, maps are used in a variety of ways from locating traffic accidents to analysing school catchments areas etc. Ceredigion Maps enables you to access Ordnance Survey (OS) and mapped data layers provided by a number of Ceredigion County Council departments. Collections of mapped data layers are known as "Themes" when viewed in Ceredigion Maps.
Wherever possible public domain mapped data will be presented via Ceredigion Maps in both Welsh and English.
Enter a postcode, street name or address into the search box to find a location
Place a tick next to one of the themes shown under the map legend items to display on screen.
Click on a title to expand the legend
Move around the map by clicking and dragging.
Click once on a displayed marker to get more information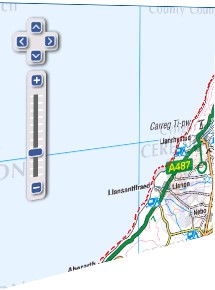 Zoom in or out using the +/– slider or double-click to zoom in
Please note that some mapped information is not visible until you zoom to street level. For example planning application outlines (shown as red line or point) switch on when you zoom in closer than 2500 metres.